West Hollywood City Hall's lobby is getting a make-over.
The city on March 23 will begin a renovation project aimed to create more efficient access to frequently visited City Hall services. That renovation is expected to be completed by September.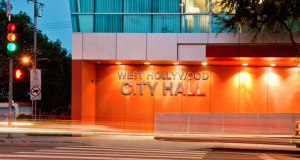 While it is underway, all regular services offered at City Hall – including access to the City Hall cashier, parking services, rent stabilization and housing services, planning and development services, building and safety services – will operate as usual. Visitors may be redirected from regularly accessed counters as construction progresses. Signs will be posted at City Hall to provide directions and staff members will be available to assist visitors. Construction is anticipated to take place at nighttime to allow for uninterrupted daytime access to the public.
All city commission and city advisory board meetings regularly held in the Community Conference Room at City Hall will be temporarily relocated either to Plummer Park, at 7377 Santa Monica Blvd., or to the West Hollywood Library Community Meeting Room at 625 N. San Vicente Blvd. Community members who wish to attend meetings are encouraged to check the City of West Hollywood's meeting and events calendar online or the appropriate posted agendas for meetings, which include location information at www.weho.org/agendas
The lobby renovation project will feature a newly designed reception desk area. There also will be a new staircase to connect the ground-floor lobby area with second-floor services, such as planning and development services and building and safety services, which will eliminate the need to wait for a busy elevator. Improvements will include updated customer service counters for parking services and rent stabilization and housing services, as well as an expanded counter for the City Hall cashier and City Clerk's office. Lighting will be modified and improved on both levels.
For questions about public meetings for city commissions and city advisory boards, please contact the City Clerk's office at (323) 848-6409.