West Hollywood is considering testing public video cameras in four locations to judge their use as public safety devices.
The proposed locations are on Santa Monica Boulevard at La Brea Avenue, at North Robertson Boulevard, at North San Vicente Boulevard and at La Cienega Boulevard.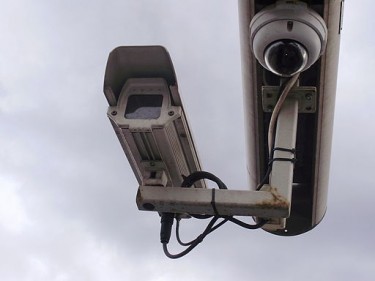 The proposal to test the cameras comes a little more than two years after the City Council first authorized it in December 2015. It will go before the Council for its approval at its meeting on Monday, a little more than two weeks after the stabbing death of a homeless man on La Brea Avenue near Santa Monica. Sheriff's deputies are continuing their search for the man who committed the murder, which has prompted a demand from residents of the city's Eastside for an increased police presence.
The city's Innovation Division has researched similar programs in other cities including Boston, Washington, D.C., Los Angeles, Beverly Hills and Detroit. It also has developed privacy guidelines to ensure that the installations do not unduly compromise the privacy of local residents and visitors.
The City Council will be asked on Monday to approve a request for proposals from vendors, four of whom will be selected to do a nine-month test of a particular security camera operation. Each prospective vendor will receive a $10,000 stipend.
A memo to the City Council from the city's Economic Development and Public Safety departments says the vendors will be encouraged to test cameras or other sensors that "can also provide insights about how people interact in the city. For example, innovative companies are using smart city cameras and sensors to measure volume and direction of pedestrian, bicycle, and vehicle traffic. Such programs can inform city planning and other municipal operations as collected data can be used to increase pedestrian and vehicle safety or increase economic activity." The city also will evaluate the cameras and their sensors in regard to privacy and it will determine when and how to make video available to law enforcement officers.
The memo to the Council cites some innovative approaches used in other cities. For example, Boston has struck agreements with local businesses in its growing Seaport neighborhood in which they agree to share their video surveillance data with the Boston Police Department to help make large public events safer.
In Washington, D.C., Capital Shield is a public-private partnership through which participants provide the local police with direct access to their security cameras. "This enables first responders to quickly gain the situational awareness required to assist citizens during emergency situations," the memo states.
The City Council will consider authorizing the release of the request for proposals at its meeting on Monday at 6:30 p.m. at the City Council Chambers at 625 N. San Vicente Blvd.