Back in 1978 I was still new to the West Hollywood scene, but for anyone who was young and gay back in those days, West Hollywood was an exhilarating experience. All along Santa Monica gay men paraded proudly, indeed defiantly, the very act of openly proclaiming your sexuality being a liberating political statement. These were our street,s and we were creating a new world of our own. The very openness of West Hollywood put us in the vanguard of Gay Liberation; we were the shock troops of the sexual revolution ready to take on the world.
The world did not wait long before picking up the challenge and taking us on with a vengeance. In the summer of '78 some friends dragged me to a political rally in West Hollywood Park. While this seemed like a tedious distraction from the bars, I was cognizant that our community was under attack. Inspired by Anita Bryant, who led the repeal of gay rights ordinances in Dade County, Fla., State Senator John Briggs had qualified an initiative, Prop. 6, that would have prohibited gay people and people who supported gay rights from being teachers in California schools.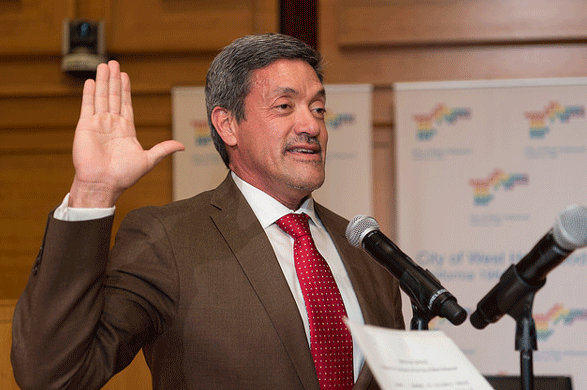 The premise of the Briggs initiative was that gay men were simply unbridled sexual creatures, who had no self control. We were not like other adults. We could not be trusted to be around children as we are promiscuous and predatory. Gay culture was simply incompatible with the teaching profession or any profession where children needed role models.
A raucous crowd had gathered in West Hollywood Park, loudly applauding speakers who seemed more shrill then inspiring. But as the rally seemed to be winding down, the MC introduced a woman to wild acclamation. I was near the front but whoever this person was seemed obscured by the podium. Then Ivy Bottini stepped out to the edge of the stage and launched into a fierce tirade of defiance, inspiring and challenging the crowd like no prior speaker. Ivy was responsible for launching my activism.
Fast forward a couple of decades. West Hollywood is now a city and it has just paid half a million dollars to settle a sexual harassment lawsuit against City Councilmember John Duran, who was both unrepentant and unapologetic. Both in the press and before a jury in a related case, Duran rationalized his conduct; gay men are different he said, you can't hold us to the same work place standards as heterosexuals. Sexually charged conduct that would be deemed inappropriate anywhere else was totally acceptable in West Hollywood as simply an expression, indeed celebration, of our gay sexual orientation. Gay men expect this sort of conduct from each other said Duran; we certainly should not be penalized for simply being who we are.
When I first heard Duran "mansplain" his conduct to the Los Angeles Times, I knew exactly where I had heard that rationalization before: John Briggs.
For a guy who loves to relate his version of LGBTQ history, (generally ensuring he has a leading role in the tale), Duran has demonstrated a remarkable ignorance regarding one of the most crucial battles of our community. In his narcissistic need to rationalize his childish conduct, he unwittingly validated every homophobe who has ever attacked our community. If Duran is right, then maybe Briggs was right. Duran in his need to validate his bad behavior has in fact betrayed our community by saying that we cannot be held to normal adult rules of professional conduct.
Whatever our varied personal lives, you can't create whole separate standards of behavior for gay men in the work place. Although Duran has spent most of his life looking for validation that he is "special", someone needs to tell John Duran that "Gay Rights" are not special rights. We can't have special categories of behavior just of gay men; "Equal Rights" mean equal rights and equal responsibilities. That includes acting like an adult in the workplace.
This is not the only time Duran has betrayed the gay community.
Duran has run for the State legislature three times, once in Orange County, twice from West Hollywood. He also ran for the Board of Supervisors in 2014. Each time Duran has run for higher office his cry is that "we need a place at the table".
Unfortunately history has shown us that what Duran means is that he needs a place at the table.
Twice John Duran has gone out of his way to derail qualified and viable lesbian candidates seeking higher office.
I have previously cited Duran's behavior at the West Hollywood Democratic Club where he interrupted Assembly candidate Torie Osborn during her acceptance speech of the club's endorsement. "This is bull shit" Duran ranted, behaving in a manner hardly reflective of a leader in the gay community. When a young woman questioned his behavior as possibly being misogynistic, Duran sneered "We are not all lesbians." In any other gay community that would have ended his political career. He never apologized, rationalizing that his "passion" for politics excused his Trump-like rant.
In 2014 when Sheila Kuehl was preparing to run to succeed Zev Yaroslavsky on the Board of Supervisors in the Fifth District, which included West Hollywood, Duran decided to jump into the race. No one in the community believed he could win or deserved to. Kuehl was a pioneering member of the California Assembly and a leader in the State Senate. Kuehl was clearly the most qualified candidate, and Duran was clearly running as a spoiler to undermine her candidacy. While the gay press politely ignored this angle, it was what the community perceived. Duran lost the primary badly even in West Hollywood.
But rather than graciously endorsing Kuehl as the LGBTQ community candidate, Duran endorsed her rival. Not content with merely endorsing, Duran publicly attacked Kuehl in the Los Angeles Times, accusing her of being arrogantly dismissive of the part time City Council experience of her rival. So much for our community needing a "place at the table".
Duran's career on City Council has been one bad headline after another with very few tangible accomplishments. Had John Duran never been on City Council our city would probably not be any worse for it. Yet as the self proclaimed gay messiah, John has consistently disappointed and betrayed our community's hopes and expectations. It is not just the half million dollar sexual harassment settlement, the District Attorney's investigation into the abuse of his city-issued credit card, being glued to sex apps during Council meetings, the play to play politics or his casual misogyny. It is a culmination of immature and self serving conduct that renders John Duran as unacceptable as a potential Mayor for the City of West Hollywood.
We deserve better.