(Video by Brian Holt for WEHOville)
UPDATE:  The Los Angeles Bureau of Sanitation, which has said it is going to conduct a major cleanup of the area in and around Poinsettia Park on Wednesday, an area that has become a gathering place for homeless people, got a head start on that this morning.
The Sanitation Bureau has posted signs in and around the park asking that everything be removed by 8 a.m. Wednesday. But already today Sanitation workers were on the scene conducting a regularly scheduled cleanup of obvious trash on the curb in the area, which doesn't include tents or other personal belongings. That cleanup upset at least one homeless person, who spoke to videographer Brian Holt in the video above.
"Please remove all personal belongings, including bulky items from sidewalks, alleys, parks and public access areas," the poster reads the poster announcing the Wednesday cleanup. "All property remaining will be removed by the city. Property left behind, except for items that pose an immediate threat to public health or safety, trash, and evidence of a crime or contraband, will be collected by the city and kept in a secure location for a period of 90 days, during which time it may be retrieved by its rightful owner."
The poster also notes that the bureau may use power wash and street cleaning equipment in the area.
Conditions at Poinsettia Park, which is just south of West Hollywood on Romaine Street, have alarmed some residents, who turned out at the city Public Safety Commission meeting on March 12 to cite their concerns. Those conditions include temporary shelters created by homeless people on the sidewalk around the park. Residents also complained about thefts and break-ins that they attribute to homeless people.
"The net is, people don't feel safe here because of the blatant street level crime," Kris Nichols, a resident of the Avalon West Hollywood just north of the park, said to WEHOville.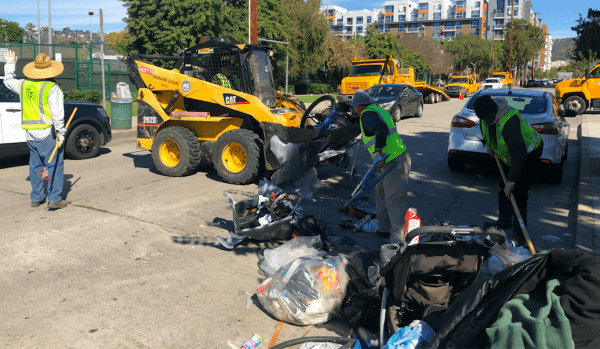 The concerns about the homeless at Poinsettia Park and the stabbing death on March 4 of a homeless man on La Brea Avenue near Santa Monica Boulevard have led residents of the city's Eastside to demand a greater police presence there. The West Hollywood Sheriff's Station has said it will step up foot patrols and leave squad cars parking in the area to warn away criminals.
The Sheriff's Department and the Los Angeles Police Department have been approaching homeless people directly to encourage them to seek help. The LAPD's Homeless Outreach and Pro-Active Engagement (HOPE) team is at Poinsettia Park this morning.
The efforts today and Wednesday are likely to be only a temporary solution, with the homeless people moving north into West Hollywood or to other nearby areas in Los Angeles. They also may return after the cleanup, given that homeless people who sleep on the sidewalks can erect tents there so long as they leave at least 36 inches of sidewalk width open. They can't camp on the sidewalks before 9 p.m. and must remove their tents every morning by 6 a.m. except on days when there is rainfall or that are very cold.