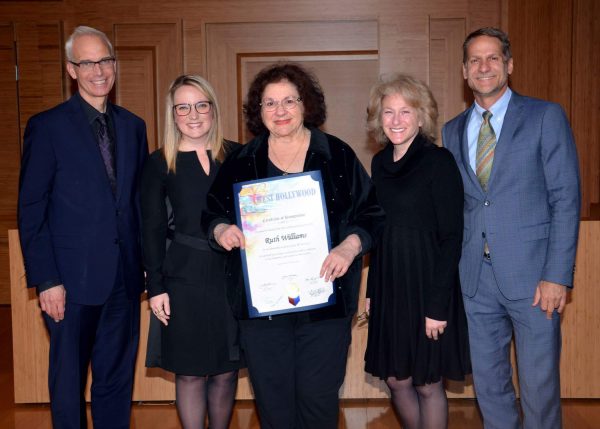 Ruth Williams, chair of West Hollywood's Public Safety Commission, was recognized at last night's City Council meeting for her public service and for her 80th birthday, which was last Thursday.
City Councilmember Lindsey Horvath, who presented Williams with a proclamation, noted that she had served on the Public Safety Commission since 1994. Williams also
Was former director of advocacy for the National Council of Jewish Women/Los Angeles, "where she helped educate the community on issues such as child abuse, human trafficking, domestic violence, teen bullying and human rights," Horvath said.
Williams, who has lived in West Hollywood for 70 years, served on the city's Rent Stabilization Commission before assuming the position on Public Safety and helped draft the city's original rent stabilization laws.
"She has dedicated her life to advocating for and helping others," Horvath said. "Through her efforts, she has helped to make West Hollywood a safer place to live and visit."
"If there was an issue worth fighting for, Ruth was on the front lines," Horvath said "…. We know her as a founding mother of West Hollywood."
Horvath also presented a proclamation to Charles Cohen, whose company owns the Pacific Design Center, for his work as chairman and CEO of Cohen Media Group, a film producer.
"Since they were formed in 2008 they have received eight award nominations in 10 years … 2017 Academy Award winner for best foreign language film, "The Salesman," and the 2018 Academy Awards nomination for best documentary,  "Faces Places,"  and best foreign language film, "The Insult."