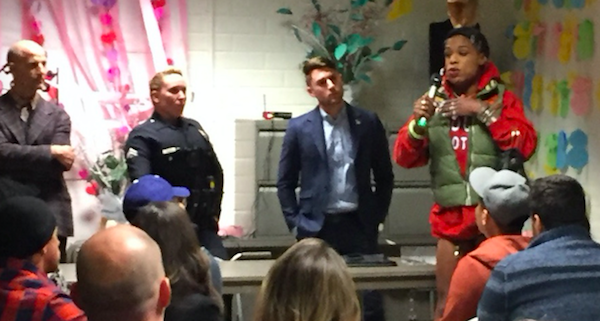 The homeless encampment on Poinsettia Place between Romaine Street and Willoughby Avenue is upsetting residents living nearby who complain about car break-ins, trespassing, finding used drug needles and human feces in their yards as well as homeless people openly masturbating, using drugs and harassing people.
Those were some of the issues raised at a neighborhood public safety meeting, sponsored by the Melrose Action Neighborhood Watch Association, held Tuesday night in Poinsettia Park in Los Angeles, just across the West Hollywood border. About 75 people (both Los Angeles and West Hollywood residents, including City Councilmember Lauren Meister and Lt. Edward Ramirez of the WeHo Sheriff's Station) turned out for the standing-room-only meeting, which was so crowded that some people had to stand outside the room, struggling to hear the discussion. Among those attending was a homeless transgender woman who urged those at the meeting to show compassion for people like her.
During the two-and-a-half-hour meeting, residents reported concerns about their safety. They said they were reluctant to walk from their homes to the nearby Trader Joes grocery store, fearful to let their children play outside, afraid of walking barefooted or in sandals on the sidewalks or even their own front yards because of needles and feces, and tired of stepping over or around people passed out on the sidewalk.
"I've never felt unsafe in the ten years I've lived her, but in the past five months, I feel unsafe," said one person.
"I don't like having to be on guard all the time," said another resident. "This used to be such a safe neighborhood."
Meanwhile, a couple living in the area reported they no longer walk to work at The Lot, the nearby movie studio, for fear of being harassed by people in the homeless encampment.
That encampment on Poinsettia Place has grown significantly in recent months. A police officer reported its numbers swelled after a large number of people were displaced by construction of a new building in Hollywood.
"This is a housing issue, primarily," Los Angeles Police Department (LAPD) senior lead officer Inga Wecker of the Wilshire division station told the crowd. She visits the Poinsettia encampment daily and is intimately familiar with its inhabitants.
Advocating Compassion
While the meeting was intended to address concerns about quality-of-life issues, several times it turned into a shouting match between area residents and homeless advocates urging compassion.
"People need housing, not handcuffs," said John Motter, a volunteer with Ground Game LA, a homeless advocacy group. "We need to think of housing as a fundamental human right."
Motter said his group is looking for long-term solutions to the homeless problem, not just knee-jerk reactions to the growing number of homeless.
"Skid Row is now everywhere in Los Angeles," Motter told the crowd. "Every community has a Skid Row."
Wecker, however, noted that the few dozen people living at the Poinsettia encampment is nothing compared to the size of encampments in downtown Los Angeles, Hollywood and Venice.
While the Poinsettia homeless encampment was just 500 feet from where the meeting was being held, only one homeless person came to speak on their behalf. Mia, a transgender women, stood outside the meeting yelling about compassion before being invited to address the crowd.
Mia explained she had been homeless since 2012 and asked for people to show some compassion and remorse for the homeless situation.
"Some people might have certain circumstances in their lives where they don't know how to keep stability," said Mia. "It is very tough world. It's very tough to survive and live in this world. There's a lot of selfish, greedy people out there in this world that aren't trying to fight back for those that are in poverty."
Worries About Crime
Several people said they were not so much bothered by the existence of the encampment on Poinsettia as they were concerned about the increase in crime as the camp has grown.
Wecker said LAPD arrests homeless people who have outstanding warrants for previous crimes. However, that does not keep them off the street for long, and the vast majority of the homeless do not have outstanding warrants.
Wecker reported that crime in the area north of Beverly Boulevard and west of La Brea is down overall from a year ago. Although she did not provide exact statistics, she said violent crimes were down significantly, but property crimes were up. The number one crime in the area is burglary of motor vehicles.
LAPD Detective Brent Hopkins advised residents take simple steps of keeping valuables in the car out of sight and locking their cars, even in their own garages because people can break into garages.
Hopkins said that it does not appear that the uptick in car burglaries is coming from "unhoused" people, but rather from professional burglary groups that have targeted the area.
Wecker reminded the residents that it is not a crime to be homeless and that people are permitted to be on the sidewalk. She said the city of Los Angeles allows people to have tents up between the hours of 9 p.m. and 6 a.m. After that, they have to take the tent down, but are not required to leave the area.
While police officers often come by the encampment telling people to take the tents down, the LAPD does not have the manpower to keep officers at the encampment all day. So, once LAPD leaves, the tents frequently go back up.
Several people asked about erecting some sort of hedge or fence around the homeless tents on Poinsettia, some saying they would help pay for it and erect it.
However, Robert Oliver, a field deputy for Los Angeles City Councilmember Paul Koretz, who represents the area, said even though the sidewalk along that portion of Poinsettia is extra wide, the Americans with Disabilities Act (ADA) requires a minimum of 36 inches clearance on the sidewalks.
"We can't intentionally put obstructions up," Oliver said. "We need to fix the problem."
Oliver said the Poinsettia homeless encampment was of particular concern because it is directly in front of a Los Angeles Department of Water and Power (DWP) facility that houses electrical equipment critical to the city's infrastructure. He said that on several occasions people have jumped the ten-foot high fence surrounding the DWP facility.
Several people suggested bringing in portable toilets and showers for the homeless, noting they could easily be set up in Poinsettia Park. However, Oliver said that Koretz wants to make sure the park remains a park and does not intend for the Poinsettia encampment to become permanent.
"Homelessness is the number one issue for Councilmember Koretz," said Oliver. "This encampment is the worst in Council District Five [Kortez's district]."
Getting the Homeless to Services
Many people wanted to help get homeless people to services that can help move them out of homelessness. However, Wecker noted while you can make a homeless person aware that the services exist, you cannot make him take advantage of them.
As an example, Wecker said a minister from Venice Beach frequently joins her on visits to various homeless encampments, offering people immediate shelter and food vouchers as well as financial assistance in finding permanent housing. She reported that in 18 months, only three people have accepted the minister's offer of help.
As for cleaning debris off the sidewalks, Wecker said LAPD was required by law to provide 72 hours' notice and after that, the Los Angeles Department of Sanitation has to determine what is trash and what must be saved.
Wecker said that doing a sweep of the area to clear out the homeless people would merely move the problem someplace else. She also said that if the police were to transport a transient person to another location without his or her express permission, they would be guilty of kidnapping.
Wecker said the best way to make a long-term difference is to lobby the area's neighborhood council for action. She noted that the Melrose area neighborhood council meets on the second Tuesday of each month at 6:30 p.m. at the National Council of Jewish Women building at 543 Fairfax Ave. at Clinton Street.
Many residents expressed concerns about homeless people squatting in houses or buildings that are not currently occupied. One resident reported 17 homeless people were living in a house that was scheduled to be demolished. Another reported homeless people moving into a rental house that was between tenants for just a few weeks. Residents also reported some vacant houses in the neighborhood have become drug dens and/or places of prostitution, with a steady stream of people in and out.
Wecker said that once a building is vacant, when a person breaks in, he or she is merely guilty of trespassing, which is a misdemeanor. Whereas, if the house is occupied, it is burglary, which is a felony.
Wecker asked residents to report vacant or abandoned houses and buildings to the police so they can keep a watch out for them. She said the Los Angeles Department of Building and Safety can determine if a vacant or abandoned building is a safety hazard and ask the owner to put up "No Trespassing" signs. If the owner does not cooperate, the city can cite the owner. Eventually if the owner refuses to cooperate, the city can seize the building, or if it is slated for demolition, it can speed up the demolition process.