Two West Hollywood restaurants, Gracias Madre and Pump, are on OpenTable's list of the 100 best "big night out" restaurants in the United States.
The list includes 16 other California restaurants. Among those are Bestia, Ivy, Otium, Perch and Republique in Los Angeles. Two Orange County restaurants, Mastro's Ocean Club in Newport
Beach and Water Grill-South Coast Plaza in Costa Mesa, also made the list.
With 18 restaurants, California claimed the highest number on the "big night out" list, followed by Florida with 17. Fifty cities, from coast to coast, are also featured, with New York and Las Vegas appearing more than any other destinations on the list and Chicago trailing
closely behind.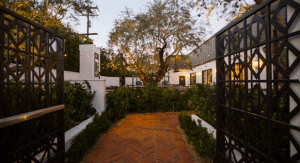 "The list features an array of buzzworthy restaurants, from up-and-coming to established, trendy to tried-and-true, across 24 states and Washington, D.C." said Caroline Potter of OpenTable, the online restaurant reservation website. "Whatever your notion of a big night out entails, whether it's a bustling bar scene or a spot to see-and- be-seen, fun is on the menu at any of these honorees."
The list was generated solely from more than 12 million verified OpenTable diner reviews collected between Feb. 1, 2017, and Jan. 31 of this year, according to the website. All restaurants with a minimum "overall" score and number of qualifying reviews were included for consideration. Qualifying restaurants were then scored and sorted according to the percentage of reviews for which "hot spot" was selected as a special feature.
The complete list can be viewed online.