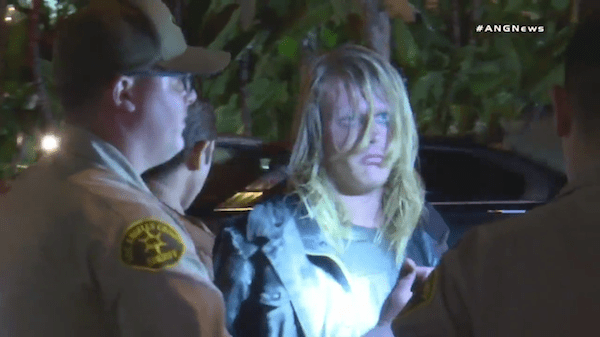 West Hollywood Sheriff's deputies early this morning arrested a man for allegedly stabbing a women who was waiting with a friend for an Uber pickup on La Brea Avenue and throwing a knife at another woman on Santa Monica Boulevard.
The stabbing occurred near the intersection of La Brea with Lexington Avenue, between Fountain Avenue and Santa Monica Boulevard. That section of La Brea has been the focus of community concerns because of a stabbing death on the same block on March 4 and numerous reports of criminal activity near the McDonald's restaurant there.
The deputies made the arrest at about 2.m. The man was described as a white male in his 20s. Lt. Darren Diviak of the West Hollywood Station said the man was speaking incoherently to the women before he stabbed one of them in the arm between midnight and 1:30 a.m. That woman was transported by the Uber driver to Cedars-Sinai Medical Center. Her condition is not known at this time.
Earlier in the evening, Diviak said, the man approached a woman walking alone and threw a knife at her, barely missing her. He picked up the knife and continued walking down Santa Monica Boulevard.
After learning about the stabbing, Sheriff's deputies began an intense search for the suspect and were assisted by Beverly Hills police and Los Angeles Police Department's Hollywood division officers. The suspect was positively identified by a witness after being detained at gun point.
The March 4 murder near the northwest corner of Santa Monica Boulevard and La Brea Avenue sparked complaints to the West Hollywood City Council from residents of the city's Eastside and a promise by the West Hollywood Sheriff's Station to step up patrols in the area. A transgender woman who had been dating the man who was killed was arrested on March 13 and has been charged with murder.
Capt. Sergio Aloma, who heads the West Hollywood Sheriff's Station, has stepped up foot patrols on the city's Eastside and also is increasing patrol car presence in the area.
While the stabbings have prompted many local residents to say they fear for their safety, data from the Sheriff's Station shows that aggravated assaults – those that involve guns, knifes or other weapons – actually have been on the decline on the Eastside. Aloma such assaults were down 20% in 2017 over 2016. So far this year, aggravated assaults are down 23% over the same period last year.