The lights will be off at West Hollywood City Hall for an hour tonight in support of Earth Hour, worldwide campaign to increase awareness about climate change. Earth Hour is campaign of the World Wildlife Fund (WWF), an international non-governmental organization founded in 1961.
All non-essential lights at City Hall will be turned off from 8:30 to 9:30 p.m.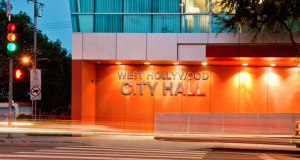 Other cities to recognize Earth Hour 2018 will include Charlotte, N.C.; Columbus, Ohio; Kansas City, Mo.; and Las Vegas, N.V., and landmarks will include the Empire State Building in New York City; Ghirardelli Square in San Francisco and the Miami Tower in Miami, Fla.
In July 2017, the City of West Hollywood joined with more than 1,000 cities and mayors from major metropolitan centers such as Boston, New York City, and Los Angeles to sign the U.S. Conference of Mayors' Climate Protection Agreement. During the past year, more than 2,600 leaders across the nation, including state legislatures, municipalities, board rooms, faith organizations, and college campuses, have stepped up to declare that they are "still in" and remain committed to meeting climate goals set forth in the Paris climate agreement.
A statement announcing the Earth Hour events says "One of the City of West Hollywood's core values is respect for the environment, and the city has a strong record of developing and instituting progressive and forward-thinking environmental policies. In 2011, the city released its Climate Action Plan, which is designed to address climate change and reduce the community's greenhouse gas emissions at the local level.
"Although climate change is a global problem, the city recognizes that many strategies to adapt to a changing climate are best enacted at the local level."