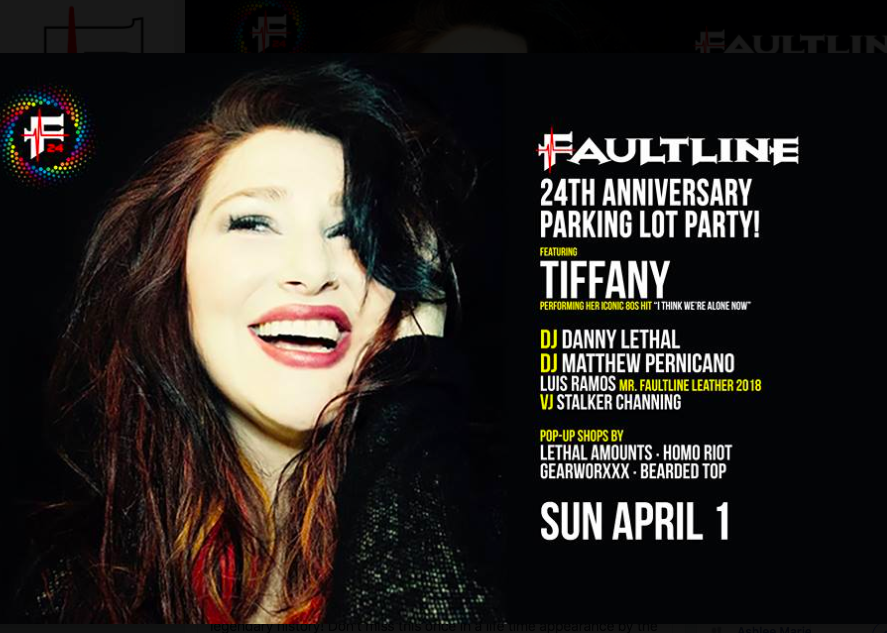 It was about 42 years ago when The Stud, the Levi/leather cruise bar, opened at 4216 Melrose Ave., east of the 101 near Vermont. In 1988 it became the Zone, and in 1989 it morphed into Griff's after it was bought by Griff Griffin, a member of the Satyrs MC, the gay motorcycle club, who died in 1993. That's when it became Faultline
Today it still is Faultline and celebrating its 24th birthday on Sunday under the ownership of Ruby De Fresno.
The celebration will include Faultline's traditional parking lot party. And it will feature a stage performance by Tiffany, the actress, singer, songwriter and actress who once was a former teen icon. She will be performing "I Think We're Alone Now," a song that made her a celebrity when it was released in 1987.
The event also will feature DJs Danny Lethal-Fuentes and Matthew Pernicano. Luis Ramos, Mr. Faultline Leather, will be on site, as will videographer Stalker Channing. There will be pop-up shos by Lethal Amounts, Homo Riot, Gearworxxx, Bearded Top and Faultline Apparel.
The doors open at 2 p.m. Admission is $10 and granted only to those 21 and older carrying an ID. More information can be found on Faultline's Facebook page.