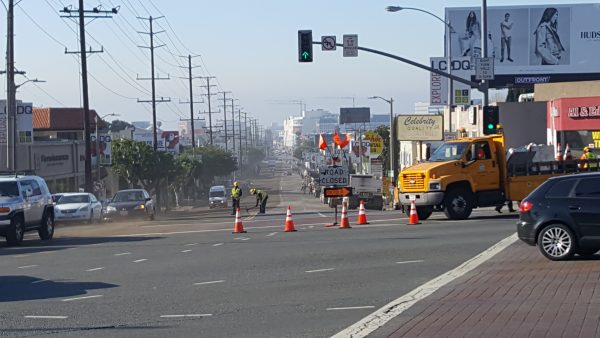 UPDATE:  While the L.A. Bureau of Street Services said it would be working on La Cienega Boulevard this past Wednesday and this coming Saturday,, in fact the eastside (northbound) lanes of La Cienega were closed from Melrose Place to Romaine Street yesterday.  The westside (southbound) lanes were open. And today all but one lane of La Cienega in open.
If you make regular trips down La Cienega Boulevard from Santa Monica Boulevard you'll need to consider an alternative on Saturday.
The Los Angeles Bureau of Street Services has announced that it will close La Cienega from Romaine Street south to Melrose Place from 6 a.m. to 6 p.m. to resurface the street.
That resurfacing requires removing two inches of the existing surface and replacing it with two inches of new hot mix asphalt.
The Street Services Bureau recommends that drivers wanting to head south on La Cienega consider taking Santa Monica Boulevard to Crescent Heights Boulevard, then heading south to Melrose Avenue, and west along Melrose to the open portion of La Cienega.