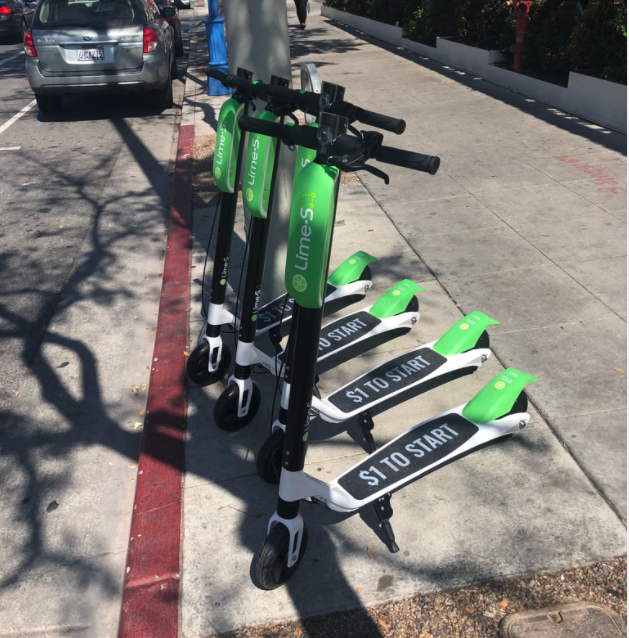 Let's drive? Let's bike? Let's walk? Let's scoot!
Scooting soon may be the preferred mode of transportation for young West Hollywood residents and those who just want to feel that way.
Evidence of that is the number of electric scooters from companies such Bird and LimeBike that have been appearing on the sidewalks of West Hollywood of late.
Bird is a Santa Monica-based start-up. It was launched in September 2017 by Travis VanderZanden, a former executive of Uber and Lyft, and already has a market valuation of $300 million. LimeBike was founded in January 2017 by Toby Sun to operate dockless bicycle-sharing systems that riders can access with a mobile app. In February of this year it launched its Lime-S electric scooters. Neither, however, has secured permission from the City of West Hollywood to operate their electric scooters on city streets. LimeBike's dockless bicycles also are not legal in West Hollywood, which operates its own bike share plan.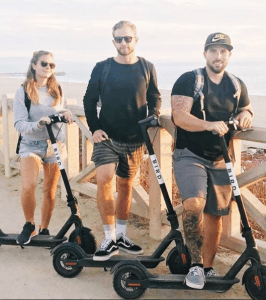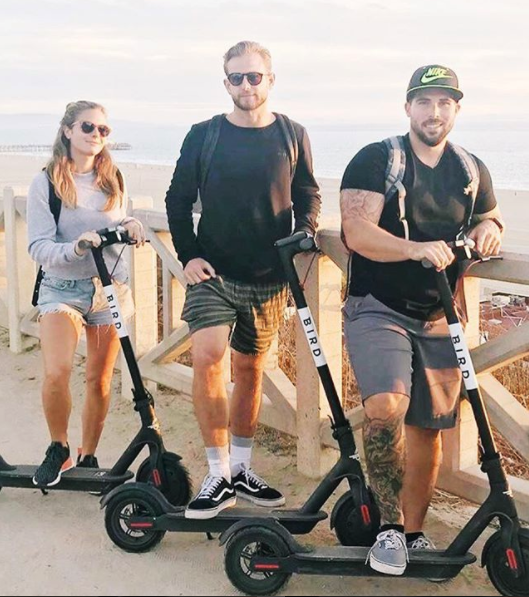 Riders can find an available scooter by downloading the Bird or Lime-S app and using it to reserve a scooter or unlock it if it's nearby. Three kick starts and you're off. Depending on how heavy you are, you can ride as fast as 15 mph. With Bird, each ride costs $1 plus 15 cents per minute. Lime-S charges an initial fee of $1 and 10 cents a minute.
At the end of a ride, you can leave the scooter at your destination and use the app to lock it. Accounts are prepaid using a credit card. Every night after 8 p.m., Bird workers travel around to pick up the scooters and get them recharged.
Bird tells its riders they must be 18 or older and should use bike paths and not ride or park on sidewalks. Instead they are asked to park near bike racks. They also are advised to wear helmets. Lime-S suggests that some cities may require helmets and doesn't specify on its website whether a driver's license is required, saying that is up to state law.
Think Uber, but on fewer wheels and without having to deal with a driver.
"Preventing car ownership is the goal of all these companies," Bird's Travis VanderZanden said in recent interview with Techcrunch, noting competitors such as LimeBike. "I think if all of us are successful, that's fine."
Some of the cities in which the scooters are operating currently don't seem to agree. Daniel Mick, West Hollywood's code compliance supervisor, said the scooter companies don't have the required city approvals.
"We are reaching out to the company," Mick said. "We've told them they can't leave them on the sidewalks and must remove them. We're trying to work with them to do it the West Hollywood way."
Santa Monica has taken a tougher approach. In December that city filed a lawsuit against Bird, claiming that it was operating its scooters without city permission and that it ignored citations asking Bird to obtain licenses and remove the scooters from sidewalks. Bird settled that suit in February, agreeing to obtain the required business licenses and to pay a fine of $300,000, relatively little for a start-up that has been valued already at $300 million. Bird also agreed to produce a public safety campaign that would appear on local busses.
On Santa Monica Boulevard on West Hollywood's Westside the Lime-S and Bird scooters generally aren't parked near the city's SmartBikes stations but are at scattered locations outside shops and bars. Recently there was a neat collection of four of them on the sidewalk in front of Shake Shack. That might indicate that Lime-S is following a practice by Bird in Santa Monica, where it suddenly parked more than 1,000 of them on city streets to raise awareness of the program.
While many residents have praised the appearance of the scooters, others have told WEHOville that they are concerned they will compete with the city's financially challenged bike share program and worry about collisions between pedestrians and those riding electric scooters on sidewalks. Sidewalk riding is inevitable given the shortage of bike share lanes in West Hollywood.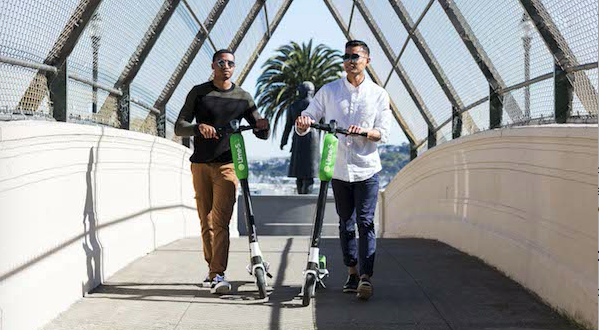 Click here to subscribe and receive an email every morning showing the previous day's news on WEHOville. You'll be joining the great list of supporters of WEHOville and our effort to provide you with the news you want and need.