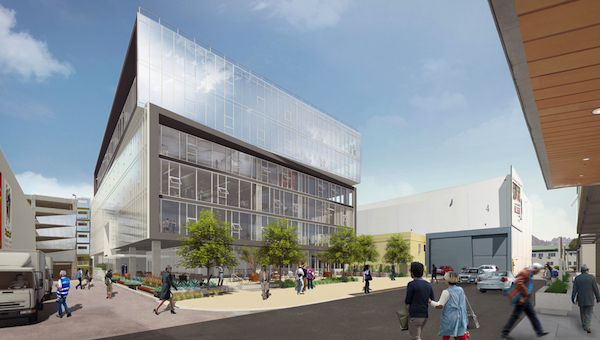 CIM Group is planning to erect another office building at The Lot.
While CIM still is working its way through the City of West Hollywood's planning and development process for the project, the six-story, 101,000-square-foot building already is listed for lease by broker Nicole Mihalka.
LoopNet, the real estate website, displays images of the proposed building and its floor plan and says it is projected to be complete in 2020.
The building, which has been dubbed the Courtyard Building, will be the third major office project at The Lot and is part of The Lot Movie Studios Comprehensive Development Plan created by Studio One Eleven, the architecture firm.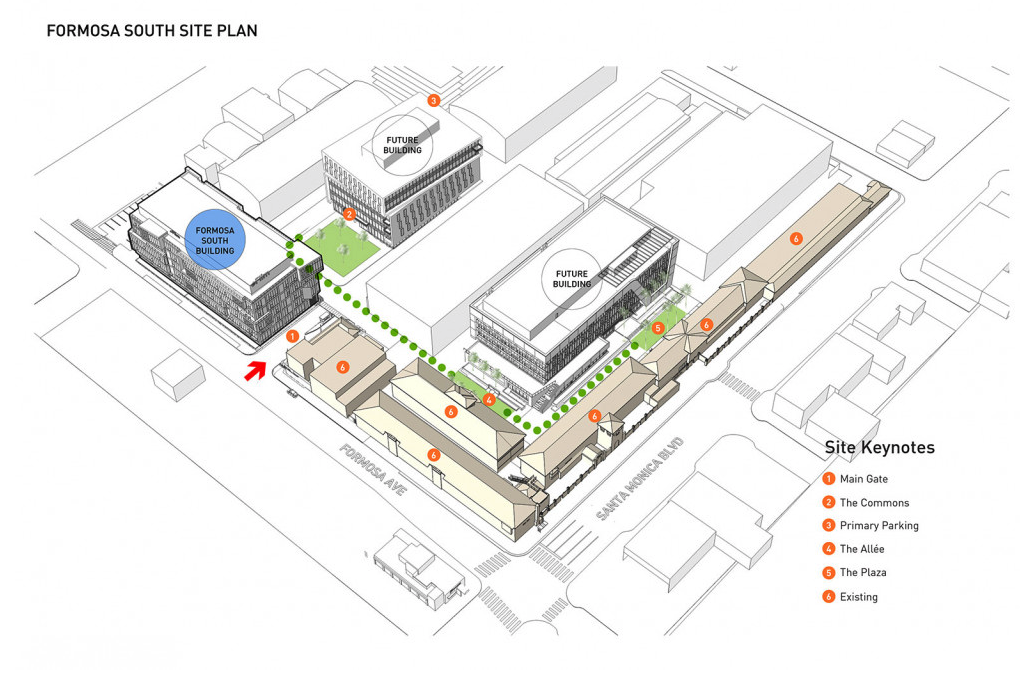 Recently completed was the Formosa West building, also known as The Lot Plaza Building, a five-story, 108,000-square-foot building.
That building was preceded by the Formosa South building, well known as the headquarters of OWN, the Oprah Winfrey Network.
"The CDP was established to create a unique district, capitalizing on the present movie studio as a major economic use while accommodating the introduction of entertainment-related supporting uses," says Studio One Eleven in a presentation on its website. "The massing of the six-story building is comprised of three stacked volumes that vary in height and orientation to relate to campus context while defining a new plaza that will serve as the heart of The Lot.
"Combined with the exposed concrete structure, the project creates an attractive office environment for entertainment and media tenants. The ground floor is set back from the upper floors and clad with clear glass and storefront mullions set behind the glass to create a clean, smooth, transparent façade visually linking the plaza and the interior."
The Lot has evolved from a studio opened around 1918 by Jesse D. Hampton, a producer and director of silent films. Early films produced at the studio include 1920's "Pollyanna," starring Mary Pickford. In 1922, Pickford and Douglas Fairbanks bought the studio from Hampton and expanded it. Eventually it became known as the United Artists Studio, famed as the location for production of dozens of silent films, featuring such stars of the day as Holbrook Blinn and Irene Rich, and Charlie Chaplin as well as Pickford and Fairbanks. Later it became the Samuel Goldwyn Studios and then was sold to Warner Bros.
The Lot has evolved over the years to keep pace with changes in technology and production in the movie industry.
Click here to subscribe and receive an email every morning showing the previous day's news on WEHOville. You'll be joining the great list of supporters of WEHOville and our effort to provide you with the news you want and need.