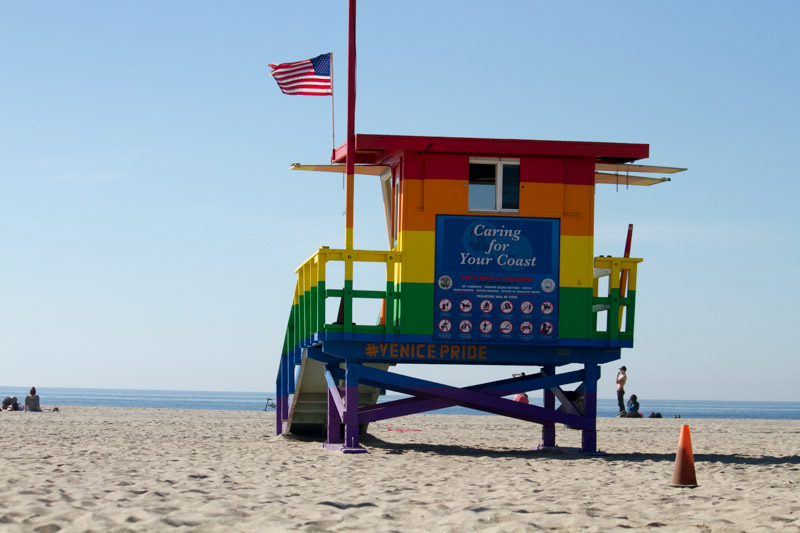 Venice Pride announced today-on the first anniversary of rainbow flag creator Gilbert Baker's death – that it has commissioned what will become the world's largest free-flying rainbow flag when unfurled at a June 1 ceremony in Los Angeles made possible by Aids Healthcare Foundation.
Long-known for its bohemian spirit, and of late its rainbow-painted lifeguard tower, L.A.'s Venice Beach neighborhood will host the flag for three days before gifting it to San Francisco to mark the rainbow flag's 40th anniversary. Throughout 2018 and early 2019 the flag will be passed to different host cities around the world who will display it during their own pride celebrations. The flag's journey will culminate in New York City in June 2019, as the city commemorates the 50th anniversary of the Stonewall Uprising and plays host to 2019's World Pride celebration.
"As individual Pride festivals we exist separately. This initiative will give us the opportunity to link with global Pride activities over the next couple of years," said Grant Turck, executive director, founder and president of Venice Pride. "Baker's rainbow flag has stood as the symbol for inclusivity within the LGBT community worldwide, and I'm thrilled that the 'United We Pride' flag will begin in Venice Beach as part of Venice Pride 2018."
The rainbow flag was created in 1978 by artist, designer, Vietnam War veteran and then-drag performer, Gilbert Baker. He was commissioned to create a flag by politician Harvey Milk who died later that same year. It was first showcased at San Francisco's Gay Freedom Day Parade on June 25, 1978. Baker's flag has become widely associated with LGBT rights causes, a symbol of gay pride that has become ubiquitous in the decades since its debut.
The largest rainbow flag flown to date is a 1,033 square foot banner that soared over Nelson Mandela Bay in Port Elizabeth, South Africa.