While the City of West Hollywood is still putting together the complex process for screening applicants for recreational cannabis retail and delivery licenses, Jadore, a cigar and tobacco retailer at 8741 Santa Monica Blvd. near Hancock, already has begun selling cannabis products on its second floor.
WeedMaps, a website that lists cannabis retailers across the country, says the shop sells indica and sativa types of cannabis and also hybrid cannabis. It also says that Jadore sells extracts that can be inhaled by vaping and edibles such as "peach drops" and "strawberry banana rings." The shop sells bongs, which are devices for smoking cannabis, and pre-rolled marijuana joints (think traditional cigarettes, but with cannabis rather than tobacco).
WEHOville was alerted to the shop by one of its customers. It apparently is owned by Mykhail Akvlinin. The OpenGovUS.com website says he opened the cigar and tobacco shop in February of this year and the cannabis shop on March 9. They are located in the small complex also occupied by Gym bar and the L.A. LGBT Center's STD testing and treatment center.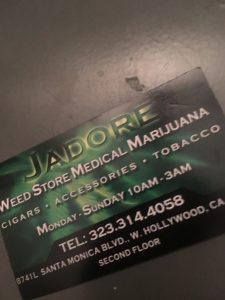 However neither of Akvlinin's businesses at that location have acquired the necessary permits from the City of West Hollywood according to Jeff Aubel, the city's Code Compliance manager. Aubel said both shops will be closed.  WEHOville has been unable to reach Akvlinin for comment.
West Hollywood currently has four shops that are authorized to sell both medical cannabis, which requires a doctor's prescription, and recreational cannabis.
Those shops are Alternative Herbal Health Services (AHHS), at 7828 Santa Monica Blvd., Los Angeles Patients & Caregivers Group (LAPCG), 7213 Santa Monica Blvd., MedMen WeHo, 8208 Santa Monica Blvd. and Zen Healing, 8464 Santa Monica Blvd.
After the passage in 2016 of Prop 64, which legalized the sale of recreational cannabis in California, West Hollywood began developing a process for granting up to eight licenses to recreational marijuana stores, eight to medical marijuana dispensaries, eight to lounges offering edible marijuana products, eight to lounges also allowing the smoking or "vaping" of marijuana and eight to locally based delivery services.
The city's existing four medical cannabis dispensaries were granted temporary recreation cannabis sales licenses but must apply for permission to make those permanent.
West Hollywood's "Cannabis Team," which includes representatives from Planning and Development Services, a staff attorney and assistant city attorney, Code Compliance, and the Community and Legislative Affairs division, will update the City Council at its meeting tonight on the cannabis permit process. To date it includes:
–Releasing a draft cannabis screening application and criteria on April 4.
–Holding a public meeting on April 11 to take questions about the screening application and the application process.
–Releasing the final screening application and criteria on April 16.
–Accepting initial applications for 30 days beginning May 2 and running through May 31.
–Having an independent committee evaluate the cannabis applications during the Summer of 2018 to recommend which should be considered for approval