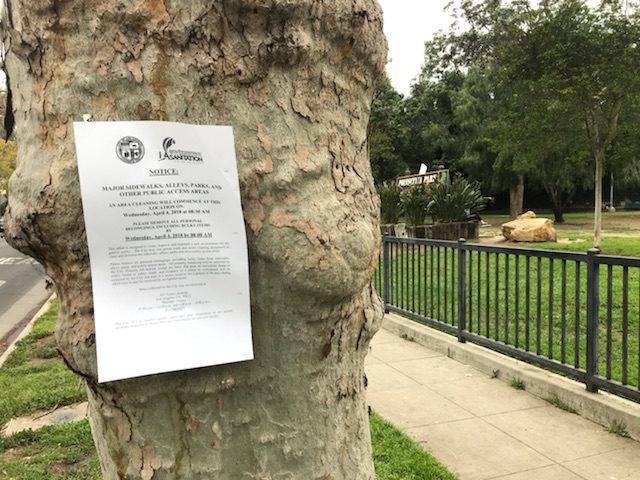 Poinsettia Park is scheduled for another cleanup on Wednesday.
The Los Angeles Bureau of Sanitation today posted its required 72-hour notice that it will be cleaning the park on Wednesday morning. That cleaning will likely include removing debris left by homeless people in the park and on the sidewalks. The Sanitation Bureau attempts to clean each park twice a month but sometimes last minute issues interrupt that schedule.
Conditions at the have alarmed some nearby residents, who turned out at the West Hollywood Public Safety Commission meeting on March 12 to cite their concerns. Residents complained about thefts and break-ins that they attribute to homeless people and the debris on the ground in the park and on the sidewalks around it.
The park is bordered by West Hollywood's Romaine Street on the north and by Poinsettia Place and Willoughby Avenue in Los Angeles on the east and south.
The homeless who have erected tents on the sidewalks are required to remove them at 6 a.m. every day and cannot erect them again until 9 p.m. That requirement is waived on days when it is raining or exceptionally cold.
A sign posted by the Sanitation Bureau states: "Please remove all personal belongings, including bulky items from sidewalks, alleys, parks and public access areas. All property remaining will be removed by the city. Property left behind, except for items that pose an immediate threat to public health or safety, trash, and evidence of a crime or contraband, will be collected by the city and kept in a secure location for a period of 90 days, during which time it may be retrieved by its rightful owner."
Click here to subscribe and receive an email every morning showing the previous day's news on WEHOville. You'll be joining the great list of supporters of WEHOville and our effort to provide you with the news you want and need.