The perspective that renters aren't as important as owners has gone on for far too long. The voice of the tenant is often seen as "less than" in some patriarchal order of rank that overlooks our contributions to the city. While I agree that renters may be less invested in terms of equity, we are more economically and emotionally invested in the city. That's a stark naked fact that often is unrealized by many of my fellow renters.
Even I sometimes forget the strength of our renter population (the 78% of West Hollywood residents) and understand the fear that we face. I am well versed in the trials and tribulations faced by our month to month population when dealing with landlords and management companies. At times I still have mild panic attacks because of the trauma I see. A flood of worry sets in when someone can take away your home. Especially when we have upheld our end of the contract.
We have paid our rent and upheld our leases, but all too often it feels as if there is no one holding landlords accountable to maintain properties. Far too often they have failed to uphold their end of the deal as plainly stated in our municipal code. It then takes drastic legal action to see the enforcement of the plainly written code. I feel that this needs to change.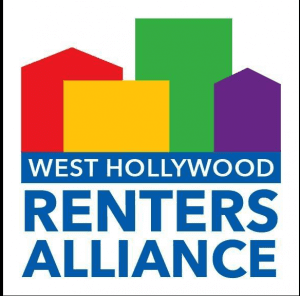 We all need to understand that renters are a major component of the economic engines that power our community. We go to our jobs to earn a salary that pays for both rent and our recreation in the city. You will not find our names on the deeds of the buildings where we live. However, the apartment where I reside is my home. Renters are the majority and it's time we feel empowered. Time we feel our relevance, our importance. Our power.
Let's face it, landlords offer a service. We pay them an agreed-upon fixed rate and we receive ownership of that domicile for the agreed upon term. No one forces them into contracts with tenants. They are not trapped by the market as rent control was implemented at a time when rental rates were soaring. Every transaction in real estate since then has been performed under working knowledge of rent control.
Not all landlords are built equally. West Hollywood has many kind and loving landlords. Yet there are some landlords who act as comptrollers of their tenant's lives. They are like the people who move into an area near an airport and then join the local crusade to close the airport. We don't blame them for this position and understand the incentive for it, but we stand united against it.
In the last few weeks, we have walked the streets of West Hollywood gathering signatures to help repeal Costa Hawkins. As we walked up to people, ballot in hand, I saw their expressions — "Oh lord, what do these people with a clipboard want?"
I said as quickly as possible "do you want to sign something to help protect rent control?" They stopped in their tracks and responded "Hell yes!".
We acquired 60 signatures on a rainy, pretty desolate evening on Santa Monica Boulevard. Each person told a tale of woe. They told stories of units in disrepair, neglectful landlords, skyrocketing rents without changes in property quality or service.
There is so much happening in the world around us that impacts renters and people just don't know. They don't know the tools that are out there to be used — their rights, amazing organizations, city departments, legislation. Often people only find these things out when a problem has arisen and it's too late. We need an engaged active renters base. We need to create better legislation that works for us, endorsing candidates that speak for us that are us.
We had a soft opening meeting for the West Hollywood Renters Alliance just to see if there was a need, a want within our community to get organized, to get informed, to become a unified voice for Renters in West Hollywood. The want is there, the need is there.
We have been actively attending City Council meetings, Planning Commission meetings, Rent Stabilization Commission meetings along with West Hollywood's tenant educational meetings. We are working to repeal Costa Hawkins, learning the legislation backward and forwards, and the Ellis Act. We have been voracious for data, and we are ready to have you join us!
We are the West Hollywood Renters Alliance.