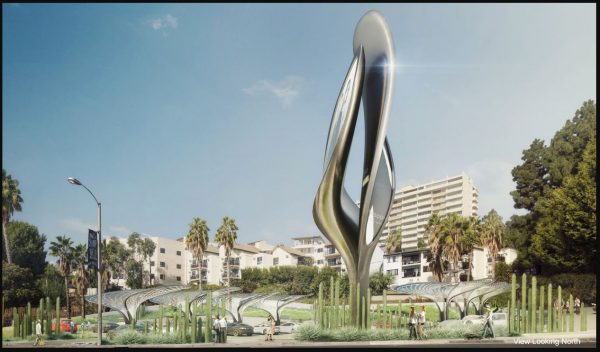 This is a plea to West Hollywood's Mayor and City Councilmembers to reconsider the current choice for the Sunset Spectacular billboard and to instead select the design presented by JC Decaux and Zaha Hadid.
I know this process has gone down the road. I apologize for my lateness; however, I think this decision is far too important to simply allow timing to interfere with correcting what I think would be nothing less than an enormous error.
The Hadid piece is a truly masterful solution to this competition, created by an internationally revered and historic architect, that eminently satisfies not only the design requirements of the initiative but also is a solution that is quite respectful of the surrounding neighborhood. Rather than being heavy, awkward, and massive, it enhances this neighborhood.
The sculptural form lifts itself elegantly and meets the ground lightly and is a truly radical yet appropriate solution toward bringing creativity to the design of advertising billboards. It would be a lasting error to construct a lesser design for such an important initiative that is located so prominently. The Hadid proposal would bring a true architectural landmark to the Sunset Strip and to the City of West Hollywood.
As I understand, the Hadid solution was very close in ranking and total points to the selected work and its income points were very close as well. These minimal differences are far outweighed by the high visibility that this structure will have for many years to come.
I have been in contact with members of the local neighborhood who also lean toward acceptance of this proposal over any of the other solutions.
I make this request to you with heartfelt confidence that the Zaha Hadid design will bring pride and acclaim to this city for having made the positive, courageous, and formidable selection that this design brings.
I thank you in advance for taking a moment to fully consider this historic opportunity that we have.