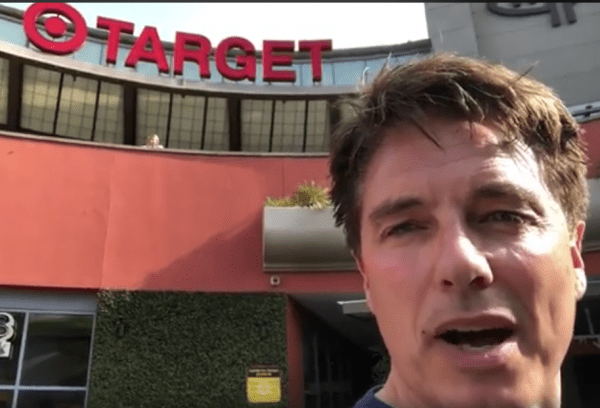 A man's claim that he was criticized by employees at the Target store at WeHo's Gateway shopping plaza because he wanted to buy a gift card for a homeless person has gone viral on Facebook and gossip sites.
It has been somewhat confirmed but also somewhat contradicted by Desiree Sol, the Target employee who dealt with him, who also is a member of the city's Public Safety Commission.
In a video posted on Facebook, John Barrowman, an actor, says he "just bought a $40 gift certificate and a jacket and a shirt for a homeless person. And I was just lectured by the Target staff that I was not allowed to do that….
"Target, that's a stupid rule. How dare you tell me as a customer who I am allowed to buy for and what I'm allowed to buy?"
As of 2 p.m. today Barrowman's Facebook post had gotten 1.3 million views and was shared 39,000 times. Barrowman also posted his allegation on Instagram. A Scottish-American actor known for his work in film and on Broadway, Barrowman has a large following.
A story on TMZ, the gossip website, says that Barrowman claimed "a homeless man approached him asking John if he could buy an $8 t-shirt for him. John says he was happy to help and also picked up a grooming kit, $40 gift card and other items for the man.
"The 'Arrow' actor claims he was approached by store employees at checkout who told him it was illegal to purchase items for the homeless in their store. Furious, John left the store."
Desiree Sol, who works at the Target store at the Gateway, described her experience dealing with Barrowman yesterday.
"This gentleman was the last guest that I helped on my shift before I went on my last break," Sol said in a post on Facebook. "We spoke about his kindness, and I thanked him and discussed some of the programs that the City of West Hollywood offers the homeless population. He acknowledged and said some people don't want to give up their alcohol or their vices to enter into programs which is understandable, he just wanted to help this guy out.
"He asked me about purchasing a gift card for the gentleman. I told him at self-checkout, unfortunately I'm not able to ring you up for a gift card, but if you go to our guest service counter they (would) be more than happy to help you. And this is what happened next …
" *** update *** apparently after I left to break, a security team member told him he could not purchase a gift card for a homeless person. I think that is the issue and hopefully not with me."
A spokesperson for Target told WEHOville that the store does not bar purchases by or on behalf of homeless people. He said that "leadership is investigating the situation" allegedly involving the security guard.