Congressman Adam Schiff yesterday recognized West Hollywood's Ivy Bottini along with 12 other women for their work in improving life in the 28th Congressional District, which includes WeHo.
The recognition ceremony took place at a luncheon in Echo Park.
"These women have worked to found or support a myriad of charitable organizations, started multiple businesses and given so much of themselves to improve the common good," Schiff said. " They are all pillars of our communities, and I thank them for their invaluable service."
An announcement of the honors describes Bottini as "a legendary activist, professional artist, mother, award-winning actress and community leader. Renowned from coast to coast for her feminism and fight for the Lesbian, Gay, Bisexual, and Transgender (LGBT) community, she paved the way for many of the advances in civil and human rights we enjoy today.
The announcement notes that Bottini was a founding member of the first chapter of the National Organization for Women (NOW) in 1966. "She designed the iconic logo for the organization, which is still in use today. In August of 1970 Ivy and over 150 of her fellow activists made headlines by unveiling a banner reading 'Women of the World Unite' over the pedestal of the Statue of Liberty.
"Ivy moved to Los Angeles in 1971, and from the time she set foot in the community, she has been working to improve the quality of life for its people. She speaks her mind and amplifies the voices of those in need around her. She founded AIDS Network LA, Los Angeles' first AIDS organization and the Los Angeles Lesbian/Gay Police Advisory Board, co-founded AIDS Project LA and served for over 15 years on the West Hollywood Lesbian and Gay Advisory Board. In 1981, she was appointed by Governor Jerry Brown to the California Commission on Aging, making Ivy the first "out" lesbian or gay person to be appointed to a state board or commission. She was instrumental as an advocate for affordable housing for gay and lesbian seniors in the opening of Triangle Square, the first in the nation assisted living, affordable income apartment complex for LGBT elders.
"Over the years, Ivy has received numerous recognitions for her years of service and most recently, she was recognized as the 2016 Woman of the Year for the 3rd Supervisorial District of the County of Los Angeles and as the 2017 Woman of the Year for the 50th Assembly District of the State of California.
"Ivy is an inspiration throughout the country. Her life's work is an example of finding one's voice and using it forcefully for the benefit of all Americans."
Others recognized were Claudette Nicole Saba Monestime (Atwater Village), Vicky Marachelian (Burbank), Isa-Kae Meksin (Echo Park), Emily Gleicher (Elysian Valley), Lori Hartwell (Glendale), Anastasia Mann (Hollywood Hills), Donna Ford (La Canada Flintridge), Kiljoo Lee Kurumada (La Crescenta), Brenda Levin (Los Feliz), Patricia Anne Kinaga (Pasadena), Nina Sorkin (Silver Lake), Kelly Erin Decker (Kagel Canyon) and Medea Kalognomos (Sunland).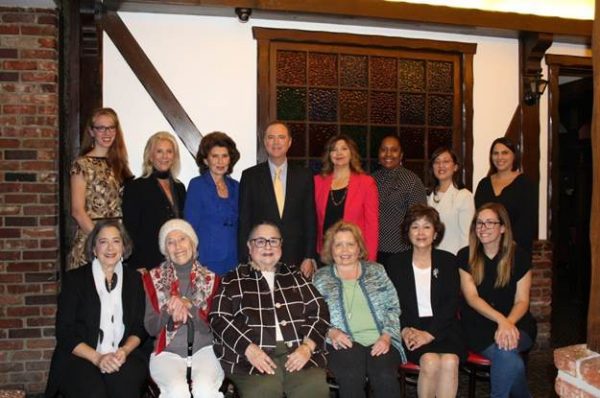 "Today, I met with thirteen remarkable women who have all worked tirelessly to make our communities a better place. It was an honor to recognize their outstanding work in the 28th District," said Rep. Schiff. "These women have worked to found or support a myriad of charitable organizations, started multiple businesses and given so much of themselves to improve the common good. They are all pillars of our communities and I thank them for their invaluable service."
Schiff gave a special tribute to Claudette Nicole Saba Monestime of Atwater Village, declaring her the 28th Congressional District Woman of the Year.
"Claudette Nicole Saba Monestime is a Palestinian American who was born in Wiesbaden, Germany, where her father was stationed serving the United States Army during the Vietnam War," the announcement said. "Nicole, her parents and two sisters moved from Germany to Anaheim, California after her father's military service ended. She credits her amazing public school education in the Anaheim school system and the attainment of a Bachelor of Arts in Business Administration from California State University, Fullerton.
She moved to Atwater Village nearly 20 years ago to expand her career in marketing, and along the way met and married her husband, Rene Monestime, and they had two sons, Reece and Micah. After having a successful career as a marketing manager at Princess Cruises and Cunard Line, she started her own marketing firm and immersed herself in her children's public school education.
Ms. Monestime helped create a technology vision for Glenfeliz Boulevard School for Advanced Studies, which has resulted in the consistent use of 75 iPads and 35 laptops by students throughout all grade levels. She continues to volunteer her time in the classroom by helping teach first, second and third-grade students about the intricacies of computer programming. Nicole is the president of the Glenfeliz Boulevard School for Advanced Studies' non-profit booster organization, Friends of Glenfeliz, which raises much-needed funds to help to pay for programs that benefit the entire student body, and also participates in an ongoing community outreach campaign to ensure that local businesses play an integral role at the elementary school. Ms. Monestime serves as the president of the School Site Council, which works with the Los Angeles Unified School District to give parents perspective and feedback regarding decisions made at the district level.
"Nicole's inspiration comes from the committed parents, administrators, teachers, business and non-profit leaders from the Atwater Village community who work in creative ways to make a difference. When they say, 'it takes a village to raise a child,' that is most certainly true and is happening in Atwater Village."