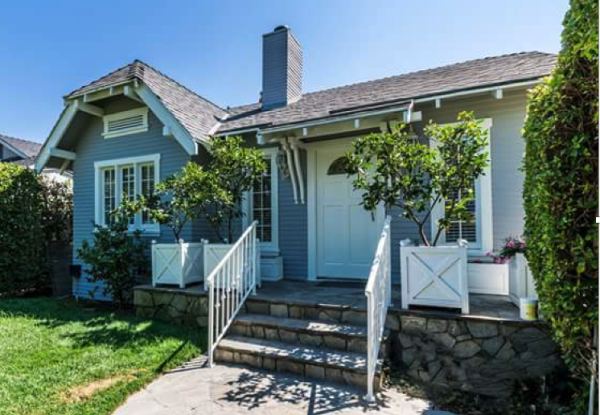 One of West Hollywood's priciest neighborhoods features modest-size, single-family homes on small lots that routinely sell for $2 million and upwards. Located within the larger West Hollywood West area, these tidy, well-landscaped houses are sandwiched alongside each other on streets like Rangely, Ashcroft, Dorrington and Rosewood avenues.
Sky-high and ever-escalating home values, though, belie the neighborhood's working-class history. It was the blue-collar foundation for two industries that gave rise to West Hollywood – electric streetcars and motion pictures.
Electric Streetcars
Everyone knows the twice-told tale about the city's humble beginning as a railyard. Moses H. Sherman business partner/brother-in-law Eli P. Clark cobbled together one of Southern California's first inter-urban electric streetcar railways in 1894 where San Vicente and Santa Monica boulevards intersect today.
The most modern railyard of its time consisted of maintenance shops, railroad yards, a power plant and car barns. The community, which Sherman named after himself, became a crossroads of local development.
Sherman and Clark platted a small town adjacent to the railyard so workers could live close by. Residential lots sold for $150, available for $10 down and $10 monthly payments. Modest wood frame homes and craftsman-style homes sprang up rapidly. A small, working-class town populated by railyard workers soon sprouted.
By 1910, some 900 residents lived on streets with names like Rangely, Ashcroft, Dorrington and Rosewood avenues. Those weren't the only streets in the neighborhood developed by Sherman and Clark by any means, but they typify those planned by the streetcar magnates.
A little-known fact is that neither Sherman nor Clark never lived in the town they founded, according to various biographies. Sherman is said to have lived at the Westminster Hotel in downtown Los Angeles until he retired. Clark lived at St. James Park / West Adams, near the University of Southern California, the St. James website states.
They maintained administrative functions of their Los Angeles Pacific Railway in Sherman for only three years before relocating headquarters to downtown Los Angeles at 314 W. 4th St., historical documents show. By moving the white-collar jobs out of Sherman, they reinforced its blue-collar roots.
Motion Pictures
Fortunes of the local electric streetcar industry changed and motion pictures took hold. Movie crews first arrived in Sherman in 1916. Mary Pickford and Douglas Fairbanks set up Pickford-Fairbanks Studios in 1922 at Formosa Avenue and Santa Monica Boulevard at a site now called The Lot. A new group of blue-collar employees – these much more creative – took over Sherman.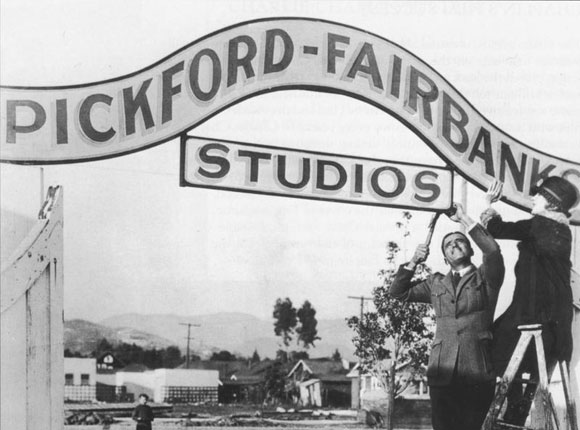 MovieLandDirectory.com has documented hundreds of rank and file workers from the movie industry who lived on these four streets alone, mostly during the 1930s and 1940s. By that time, Sherman had changed its name to West Hollywood to capitalize on ties with burgeoning Hollywood studios.
Occupations of those from motion pictures' influx included actors, cameramen, film editors, set designers, chauffeurs, grips and stagehands, costume designers and seamstresses, security guards, dancers, writers, soundmen, prop builders and musicians. And don't forget animal trainers – John Burch, who trained Rin Tin Tin, lived at 8858 Rosewood in 1938, according to the website.
Some achieved fame. Cameraman Burnett Guffey, who lived on Rosewood in 1936, won Academy Awards for his work on "From Here to Eternity" and "Bonnie and Clyde." Actress Ruth Taylor, an Ashcroft resident in the 1930s, was the mother of actor/comedian Buck Henry.
Another example is costume designer Elmer Ellsworth, who lived on and in 1938 worked on the wardrobe at MGM for "Gone with the Wind."
Today's Perspective
Chronicler Carleton Cronin and wife Toby bought their Dorrington Avenue home for $59,000 in 1974. He says they bought the house from a gay man, "like many in the area." Of his neighborhood, Cronin observes, "People speak of diversity these days as though such a condition had never existed until now. Diverse populations have always been in West Hollywood. Even when it was unincorporated, the city still had a diverse and unusual population."
These four streets in the neighborhood continue to change, as they are being squeezed on all sides by upscale developments – Melrose Triangle, 8899 Beverly Boulevard as well as by high-end city buildings at West Hollywood Park. Then there are entitled drivers who don't have the patience to wait their turn at traffic lights, sending as many as 600 vehicles a day along Dorrington, Cronin says.
Today's real estate values make it unlikely this neighborhood – or any other in West Hollywood – could once again become blue-collar, of course, but it shows how far the city has come.