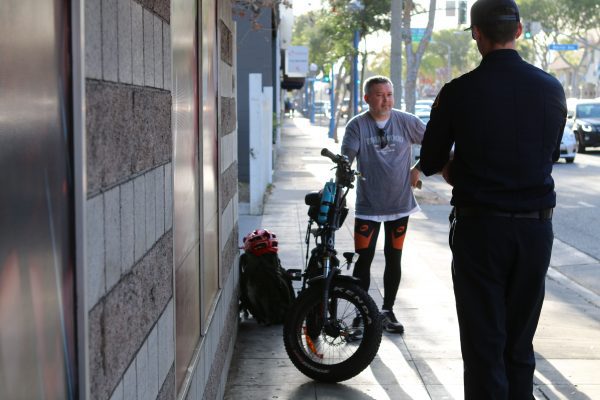 One car hit a pedestrian on Santa Monica Boulevard at Formosa and another hit a bicyclist on Santa Monica at Fuller this afternoon.
It was just after 4 p.m. when a car displaying an Uber placard struck a pedestrian on Santa Monica at Formosa. Los Angeles County Fire Department, Los Angeles Police Department officers and West Hollywood Sheriff's deputies responded to the collision.
A bystander overheard the driver telling Sheriff's deputies that he was headed west on Santa Monica Boulevard and attempting to make a left turn to head south on Formosa. While attempting to make the left turn, his attention was focused on a jeep headed towards him. As he turned, his car hit the pedestrian. The pedestrian was transported to the hospital for a medical evaluation. Details on the condition of the patient were not immediately available. West Hollywood Sheriff's deputies are handling the investigation. The driver told a photographer on the scene that he was not using the Uber app when the accident occurred.
Just before 6 p.m. today a car struck a man riding a bicycle on Santa Monica Boulevard. L.A. County Fire Department personnel responded to the accident at the intersection of Fuller Avenue and Santa Monica after what appeared to be a minor collision. The man on the bicycle appeared uninjured and declined to be transported to the hospital. West Hollywood Sheriff deputies responded to the scene to conduct an investigation.