Six West Hollywood residents spoke out Thursday night against the idea of forcing renters to pay part of the cost of shoring up apartment buildings to protect them from earthquake damage.
The residents, all renters, spoke at a meeting of the city's Rent Stabilization Commission, which is reviewing options for covering the cost of mandatory fixes to buildings that are determined to be at risk of earthquake damage.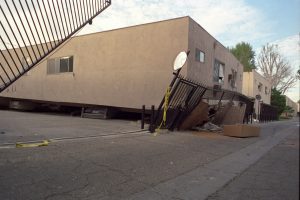 One of those speakers, Ben McCormick, said he was a 14-year resident of West Hollywood who lives in a building covered by the city's rent stabilization law. Otherwise, McCormick said, he couldn't afford it if it were at the current market rent.
Like the other speakers, McCormick said a renter shouldn't be required to help pay for the maintenance of his or her apartment building.
"If we are forced to cover part of this cost, I'd like to know do we get an ownership in our building?" McCormick asked, to the applause of others in the audience.
The City Council last year decided to require owners of buildings that are determined to be earthquake-vulnerable to undertake what is called seismic retrofitting. City Hall in
The city currently has in place a program that allows a building owner to seek an increase in rents in rent-stabilized apartments if he or she can prove that maintenance of the building is reducing profit below a level determined by a particular formula. The city also has been considering other options that would allow the owner of a building to pass along a portion of the cost of seismic retrofitting with certain limitations, which could include a set dollar amount and a limit to the number of years the pass-along would be allowed.
Commissioner Garrett Charity raised a major issue that City Hall and the City Council have been struggling with — the possibility that a building owner will decide to sell the property rather than pay to fix it. That likely would take the building off the rent-stabilized market.
The Rent Stabilization Commission will continue to consider seismic retrofit payment options at future meetings. On this Friday, April 13, City Hall is expected to release a list of the 820 buildings in West Hollywood that an engineering consultant has identified as being possibly at risk. Owners of those buildings will have to engage a seismic retrofit expert to determine if they actually are at risk and thus required to be retrofitted.