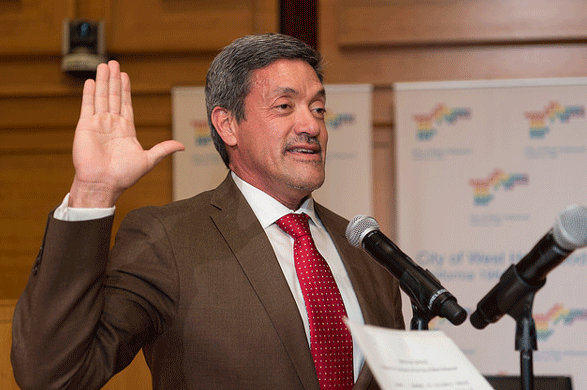 The City Council on Monday will decide who will assume the role of mayor of West Hollywood on May 21.
The Council is expected to name longtime Councilmember John Duran to the position, despite controversies Duran has been embroiled in involving allegations that he sexually harassed his former deputy, Ian Owens, and made sexually provocative comments to other City Hall employees. Duran, a gay man, also has been accused of making derogatory comments about women.
Duran is a criminal defense lawyer who has served on the West Hollywood City Council since 2001. He has a law degree from Western State University College of Law and a Bachelor of Science degree in Business Administration from CSU Long Beach. Duran is a native of Los Angeles and has been a resident of West Hollywood since 1987.
West Hollywood's current mayor is John Heilman and Duran is mayor pro tem. West Hollywood operates under what is known as "council/manager" former of government, where the position of mayor is largely ceremonial and rotates from one council member to another every year. The City Council, whose members have other full-time jobs, effectively is the city's board of directors. It hires the City Manager, Paul Arevalo, whose full-time job is managing the city.
The person named mayor is charged with running the twice-monthly City Council meetings. The mayor also is the official signer of city checks and documents and is viewed as the official voice of the city. The mayor pro tem's job is to step in when the mayor is absent to run a City Council meeting or execute other officials duties.
The position of mayor also has some clout in that it gives its holder a public platform with neighborhood groups and other organizations and some media outlets.
The role of mayor usually is assumed by the mayor pro tem. However, there have been exceptions. In April 2015, newly elected Councilmember Lindsey Horvath was named mayor and newly elected Councilmember Lauren Meister was named mayor pro tem. Duran had been in line for the position of mayor, but several council members, speaking on a not-for-attribution basis, said they were concerned about allegations at the time that Duran had solicited sex from Owens while he was a city employee. Duran denied that accusation although he did admit to meeting Owens on Grindr, the gay sex hookup site, and having sex with him before hiring him as his deputy. The city settled the case with a payout of $500,000 to Owens.
In a second lawsuit, Michelle Rex, the former deputy to Councilmember John D'Amico, claimed she lost her city job when the council deputy system was eliminated, and that the elimination was retribution for her defense of Owens, with whom she had a close working relationship.
Rex lost that suit in a jury trial in May 2017, but testimony during the trial revealed that Duran had made a sexually derogatory comment about Elyse Eisenberg, head of the West Hollywood Heights Neighborhood Association, in an email exchange with Owens.  In testimony before a jury Owens alleged other sexually improper behavior by Duran at City Hall.
Duran also has faced criticism from some local residents for his solicitation of major donations for the Gay Men's Chorus of Los Angeles, whose board he chairs, from contractors and developers doing business with the city.
For example, major donors to GMCLA's annual Voice Awards this year are Athens Services, the city's trash pickup contractor; the Charles Company, a major real estate developer that got City Council approval for the Melrose Triangle development project; Latham & Watkins, a law firm whose Jim Arnone, a gay Republican lawyer, represents real estate interests doing business with the city; the Arts Club, an exclusive member-only club based in London that is negotiating with the City of West Hollywood to get permits necessary to build a nine-story private club at 8920 Sunset Blvd.; Demitri Samaha, whose family company developed the La Peer Hotel on La Peer Drive; Lawrence Legg and E.T. Legg & Associates, a billboard company that does business with the city; Faring Capital, a major West Hollywood real estate developer involved in the Roberton Lane and French Market projects, among others, and MedMen, a cannabis company that currently operates a medical cannabis dispensary and has a temporary license to sell recreational cannabis in West Hollywood. MedMen is expected to be one of many applicants for medical and recreational cannabis licenses this Spring.
Duran insists that he has not solicited donations from those individuals and companies, but that they have been solicited by staffers at GMCLA, whose board he chairs, and who have little or no political influence in West Hollywood themselves.
Several City Council members, speaking to WEHOville on a not-for-attribution basis, said they share some concerns expressed about naming Duran as the city's mayor. But, they said, given that he was re-elected in last year's March election, they felt they had no other option.
The City Council meeting will take place at 6:30 p.m. at the Council Chambers, 625 N. San Vicente Blvd., south of Santa Monica. Parking is free in the five-story structure behind the chambers with a ticket validated in the lobby.