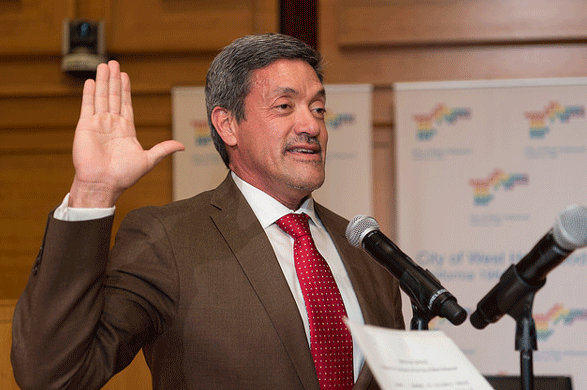 John Duran was chosen as the next mayor of West Hollywood during an awkward moment at the end of tonight's City Council meeting.
The nomination of the mayor, a largely ceremonial position, was the last item on the City Council's agenda. Before Mayor John Heilman invited his fellow Council members to make a nomination, former Councilmember Steve Martin, an outspoken critic of Duran, addressed the Council.
"It is difficult to imagine, as a gay man, that we could select a less appropriate rep for our community as mayor than John Duran," Martin said, calling out the city's $500,000 settlement of lawsuit filed against Duran by Ian Owens, his former deputy, who had accused Duran of sexual harassment, along with Duran's dismissive comments about lesbians and allegations that he had misused his city credit card.
"I know you wrap yourself in the gay flag and hope that that makes it all right," Martin said. "And maybe that does for some people…. I think you need to take a look at what you have done to our city."
When Martin finished his comments, Heilman asked his fellow Council members to nominate someone for the position of mayor. That position traditionally rotates to the mayor pro tem, a role Duran has held for the past year.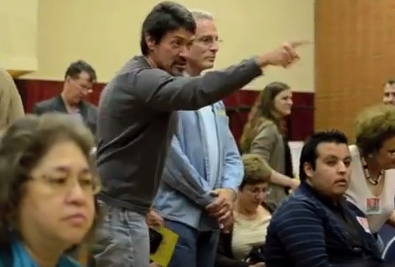 But Heilman got no response from Council members John D'Amico, Lindsey Horvath and Lauren Meister, who sat awkwardly silent. Heilman then nominated Duran as mayor, saying "his turn is next." Duran, in turn, nominated D'Amico as mayor pro tem.
Given that no other nominations were made, the Council members were not required to vote in support of Heilman's nomination. The official installation of Duran as mayor and D'Amico as mayor pro tem will take place at the City Council meeting on May 21.
Duran is a criminal defense lawyer who has served on the West Hollywood City Council since 2001. He has a law degree from Western State University College of Law and a Bachelor of Science degree in Business Administration from CSU Long Beach. Duran is a native of Los Angeles and has been a resident of West Hollywood since 1987.
While the position of mayor typically rotates to the mayor pro tem, there have been exceptions. In April 2015, newly elected Councilmember Lindsey Horvath was named mayor and newly elected Councilmember Lauren Meister was named mayor pro tem. Duran had been in line for the position of mayor, but several council members, speaking on a not-for-attribution basis, said they were concerned about allegations at the time that Duran had solicited sex from Owens while he was a city employee. Duran denied that accusation although he did admit to meeting Owens on Grindr, the gay sex hookup site, and having sex with him before hiring him as his deputy.
Michelle Rex, the former deputy to Councilmember John D'Amico, claimed in a second lawsuit that she lost her city job when the council deputy system was eliminated and that the elimination was retribution for her defense of Owens, with whom she had a close working relationship.
Rex lost that suit in a jury trial in May 2017, but testimony during the trial revealed that Duran had made a sexually derogatory comment about Elyse Eisenberg, head of the West Hollywood Heights Neighborhood Association, in an email exchange with Owens. In testimony before a jury, Owens alleged other sexually improper behavior by Duran at City Hall.
Duran also has faced criticism from some local residents for his solicitation of major donations for the Gay Men's Chorus of Los Angeles, whose board he chairs, from contractors and developers doing business with the city.
For example, major donors to GMCLA's annual Voice Awards this year are Athens Services, the city's trash pickup contractor; the Charles Company, a major real estate developer that got City Council approval for the Melrose Triangle development project; Latham &; Watkins, a law firm whose Jim Arnone, a gay Republican lawyer, represents real estate interests doing business with the city; the Arts Club, an exclusive member-only club based in London that is negotiating with the City of West Hollywood to get permits necessary to build a nine-story private club at 8920 Sunset Blvd.; Demitri Samaha, whose family company developed the La Peer Hotel on La Peer Drive; Lawrence Legg and E.T. Legg & Associates, a billboard company that does business with the city; Faring Capital, a major West Hollywood real estate developer involved in the Roberton Lane and French Market projects, among others, and MedMen, a cannabis company that currently operates a medical cannabis dispensary and has a temporary license to sell recreational cannabis in West Hollywood. MedMen is expected to be one of many applicants for medical and recreational cannabis licenses this Spring.
Duran insists that he has not solicited donations from those individuals and companies, but that they have been solicited by staffers at GMCLA, whose board he chairs, and who have little or no political influence in West Hollywood themselves.