The West Hollywood City Council last night engineered what several of its members called a compromise regarding a condominium building proposed for 1227 Formosa Ave.
The three-story, five-unit building would replace a one-story house built in 1913 and backyard unit added in 1930. It is a project of JMC Formosa Properties. The architect is Andrea Keller of AKA Architecture Design.
At its Nov. 16, 2017, meeting, the city's Planning Commission approved the project, which had been praised by Gwynne Pugh, the city's urban design contractor, for its "very elegant design."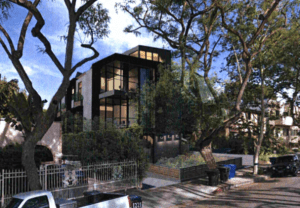 But at the meeting, several nearby residents raised objections about it. One of them was Roxanne McBryde, whose home is next door to the property and who said that she was concerned that balconies on the rear of the building would obtrude on her privacy and those of other neighbors.
McBryde brought the appeal of the Planning Commission's decision to the City Council, alleging that the developer and architect had misled residents by stating that they would remove the balconies, which they did. However, they replaced the balconies with so-called "Juliette balconies," which are sliding glass doors with a low wall four inches away from the door to prevent someone from falling out an open glass door.
McBryde got 88 signatures from neighbors opposed to the project on Thanksgiving weekend, several of whom spoke out against it on Monday night.
Neil Popowitz, a lawyer representing McBryde, told the Council that the "Planning Commission's approval is based on a fraud perpetuated by the developer." Popowitz argued that removing the balcony while retaining the sliding glass doors would do nothing to address residents' concerns about their privacy or possible noise from the condo units.
Councilmember John D'Amico suggested a compromise in which the developer would be required to keep the bottom 42 inches of the glass fixed in place with a window sill on top of it. The 42 inches of glass above the sill would be a window, opening in whatever manner the developer chooses.
While the Council ultimately accepted D'Amico's proposal, Mayor John Heilman expressed concern about making the developer alter its plan after the original compromise to remove the balcony.
Heilman said that some existing buildings in that Eastside neighborhood "are not in great condition… Some of them were designed at a time when the attention to design was not so high."
Construction, he said, is "what's involved in a city that's constantly evolving and changing."
The city's Planning and Development Services Department was asked to rewrite its proposed resolution denying McBryde's appeal to grant her request to eliminate the Juliette balcony and include the change recommended by D'Amico.