U.S. Rep. Adam Schiff (D-California) will offer "an update from Washington" at the California Women's Law Center's Distinguished Guest Speaker Series event on Saturday.
Schiff represents California's 28th Congressional District, which includes the City of West Hollywood. Now in his ninth term in the U.S. House of Representatives, Schiff currently serves as the Ranking Member of the House Permanent Select Committee on Intelligence.
The event, which will feature an introduction by West Hollywood City Councilmember John Duran, will take place at the Citys Council Chambers, 625 N. San Vicente Blvd. There will be a reception at 2:30 p.m. and the discussion will take place from 3 p.m. to 4:30 p.m. The event is open to the public; there is a suggested donation of $25. Free validated parking will be available at the adjacent five-story parking structure.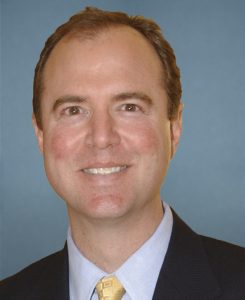 Space is limited and RSVPs are requested. To RSVP, contact CWLC at (323) 951-1041 or at cwlc@cwlc.org.
Throughout his tenure in Congress, Schiff has focused on growing the economy, bolstering national security, strengthening communities, helping small businesses, and improving education, safety and health care. Schiff has been an outspoken critic of the Trump Administration, specifically in regard to the Administration's handling of the investigation into Russian meddling in the U.S. elections and attacks on intelligence agencies.
Before being elected to Congress, Schiff served as a California State Senator (CD 21), where he chaired the Senate Judiciary Committee, the Senate Select Committee on Juvenile Justice and the Joint Committee on the Arts. Schiff also served in the U.S. Attorney's Office in Los Angeles for six years, most notably prosecuting the first FBI agent ever to be indicted for espionage.
The California Women's Law Center (CWLC) www.cwlc.org was founded in 1989 as the first law center in California dedicated solely to addressing the comprehensive and unique legal needs of women and girls to promote gender equality.
For more information, please call West Hollywood City Hall, City Council Offices, at (323) 848-6460. For people who are Deaf or hard of hearing, please call TTY (323) 848-6496.