With the goal of creating an advocacy group to empower tenants in the city, the newly formed West Hollywood Renters Alliance held its inaugural meeting at Plummer Park Wednesday night with about two dozen enthusiastic people in attendance.
The group hopes to spread information about renters' rights and also speak up for tenants in a city where 78% of the population is composed of renters. Believing there is power in numbers, the group plans to take a proactive stance on issues and lobby city officials for changes, much like the West Hollywood Preservation Alliance does on historic preservation issues or the West Hollywood Bicycle Coalition does in biking issues.
"I want us to know that we are empowered," group organizer Amanda Smash Hyde, an eight-year resident of West Hollywood, told attendees. "Knowledge is power."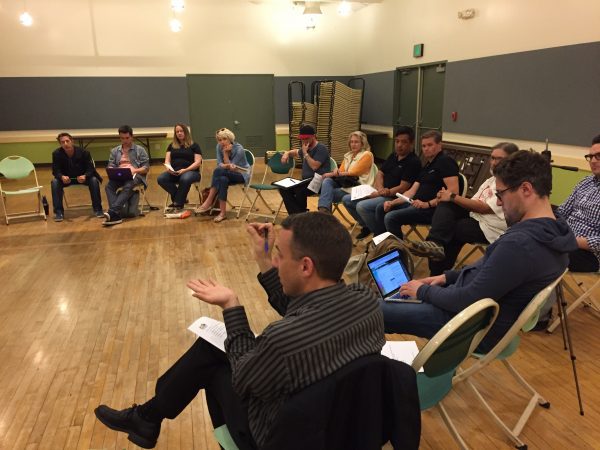 Retrofitting apartment buildings vulnerable to potential collapse when a major earthquake inevitably hits Southern California proved to be a provocative topic during Wednesday's meeting. The City Council recently passed a law requiring apartment owners to do the necessary upgrades. The city commissioned a study which identified 820 buildings that might be at risk. Once owners are officially notified, they have five years to complete the retrofits.
What's unclear is who will pay for the costs of shoring up the buildings. City Hall is reviewing several options, which ultimately will be decided on by the City Council. One is to allow a building owner to pass along a share of the retrofit costs, with that rent increase ending after a certain period. Los Angeles allows such cost pass-throughs, limiting them to 50% of the retrofit costs, with a maximum increase of $38 a month for a period of no more than 10 years. San Francisco has a similar program that allows a building owner to pass through 100% of the retrofit costs over 20 years, with a limit set at 10% of the monthly rent or a maximum of $30.
City Councilmember Lauren Meister told the group the city has not determined how much, if any, of the cost the city will allow building owners to pass along to tenants. If they do, she said,it would be small amounts over several years' time, perhaps something like $30 per month over five or ten years.
However, resident Richard Maggio, who serves on the city's Rent Stabilization Commission, expressed concern that once rents are raised to include those retrofit costs, they might not go back down. While $30 a month might seem like a modest increase to some, it would amount to $360 a year, and that could hurt people on low or fixed incomes.
That idea of passing along the cost generated mixed reactions.
"I think it's bullsh-t that we are going to have to pay for someone else's investment," Hyde said. She noted that if she gives someone a ride in her car, she doesn't expect them to pay for an oil change.
Another attendee suggested if a tenant has to pay for upgrading a building, he should get equity in the building.
However, resident Stephanie Harker, a former member of the Rent Stabilization Commission, noted if an apartment building is damaged in an earthquake and red-tagged as being uninhabitable, then the tenants are on their own to find a new place to live.
"The landlord isn't responsible to find us a new apartment [if the building is red-tagged]," Harker said. "Maybe $30 is a good thing for me to keep my home. Sort of like insurance."
Another person at the meeting said that if renters have to cover some of the cost of the retrofitting, they should be allowed to take that cost off their income taxes.
Meister said the city could investigate that idea. However, resident Josh Kurpies, who also serves on the city's Rent Stabilization Commission and works as a deputy for California Assemblymember Richard Bloom, said that idea might require approval from Sacramento lawmakers and/or federal lawmakers.
Another concern was the intrusion into people's homes while the retrofitting is occurring and the possibility people might have to temporarily relocate during the work. However, Meister said the vast majority of the retrofitting work will be external.
A separate issue raised was establishing regular inspections of units by city employees to make sure things are up to code, such as plumbing and wiring, new carpeting installed on schedule (every seven years by the city code), and units painted on schedule (every four years).
However, Maggio reported that such inspections might make some tenants feel like their homes were being invaded. Maggio said that some years ago, the city did a pilot program of city employees inspecting units, but it was not continued.
Resident Wesley Bridle, who is serving as the Renters Alliance Projects Director, reminded attendees the Coalition for Economic Survival holds a walk-in tenants' rights legal clinic each Saturday at 10 a.m. and Wednesday at 7 p.m. in the Community Center building in Plummer Park. There, lawyers can answer legal questions tenants have about specific issues.
Hyde hopes the Renters Alliance can be proactive in finding areas where the city's already strong rent stabilization laws need strengthening.
By example, Hyde pointed to the fact that "long-term basis" is not expressly defined in the city's zoning code, an issue the WeHo Renters Alliance could have tackled if it had been in existence a few years earlier. That loophole allows the AKA West Hollywood at 8500 Sunset Boulevard to operate as a hotel (per a recent ruling by the city's Planning Commission) with stays of 31 days or longer, even though the site is not zoned for a hotel.
After the meeting, Hyde told WEHOville she liked the group's enthusiasm and is optimistic for the Renters Alliance's future.
"I am super happy, I'm super excited by the turn out," Hyde said. "I'm happy that it was all really positive. I think it gave people space where they could talk about their particular issues and feel safe and empowered. I think being able to share really helps people."
The WeHo Renters Alliance tentatively plans to meet again on the final Wednesday in May.