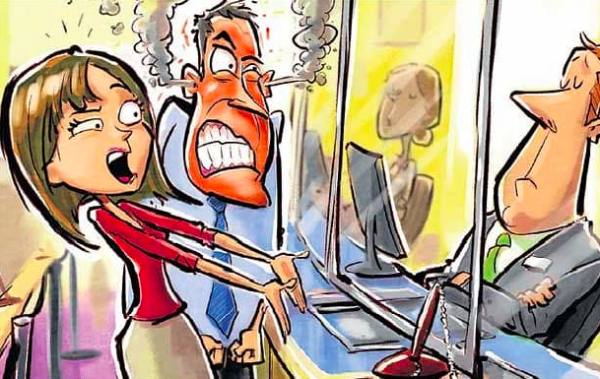 As the City of West Hollywood evaluates applications from banks it will do business with, one thing it could consider is the U.S. Consumer Financial Protection Bureau's database of customer complaints.
The database, which can be accessed online, allows one to research complaints filed against a particular financial institution by a number of criteria including zip code and type of account (e.g. credit card, student loan, bank account, etc.).
A search of complaints by residents of the 90069 and 90046 ZIP zones shows a total of 92 complaints filed with the CFPB against 10 local banks between the launch of the database in June 2012 until April 26, 2018. Those two ZIP zones cover almost all of West Hollywood and also extend into neighboring areas of Los Angeles. Four of those ten banks had complaints filed against them. With 70 complaints filed against it, Wells Fargo represented 76% of all complaints filed against banks in the two ZIP zones. US Bank had nine complaints, JP Morgan Chase had eight and Union Bank had five.
Six of the ten banks had no complaints. They are Bank of America, Bank of the West, City National Bank, Comerica Bank, First Credit and One West.
The complaints filed with the CFPB are just that, and as complaints, they aren't evidence of actual misconduct by the financial institution. They also represent only a fraction of actual incidents of misconduct among financial institutions. For example, the database lists only 62,182 complaints nationwide against Wells Fargo, the current banking services provider for the City of West Hollywood. However, Wells Fargo has admitted to illegally manipulating the accounts of millions of its customers across the country and recently was fined $1 billion by federal regulators for abuses of mortgage and auto loan customers.
One factor in the number of registered complaints may be the number of customers each bank has in the 90069 and 90046 ZIP zones, which isn't provided by the database. However, the number of branches each bank has in those ZIP zones might give a rough indicator of the size of the bank's customer base. Wells Fargo, with 70 complaints, and J.P. Morgan Chase, with eight, each has four branches. However, Wells Fargo's fourth branch opened only last month and thus is unlikely to be the source of any the CFPB complaints. Union Bank (with five complaints) and US Bank (with nine complaints) each has one branch in West Hollywood.
Wells Fargo's five-year banking contract with the City of West Hollywood expires on March 3, 2019. City Hall has been developing a rating process for applicants for a new contract that would include 21 criteria, for each of which points would be awarded, which do not include complaints registered with the CFPB.
Three of those criteria absolutely must be met for the bank to be considered, including that it has a state Community Reinvestment Act rating (but not a federal CRA rating) of "Satisfactory" or better. In March 2017, the federal Office of the Comptroller of the Currency downgraded Wells Fargo's federal CRA rating to "Needs to Improve" from the "Outstanding" rating it had had since 1994. The fall in its rating was a result of the federal Consumer Financial Protection Bureau's fining Wells Fargo for allowing employees to open 3.5 million fake credit or debit card accounts, lines of credit and checking accounts in the names of existing customers.  However, the West Hollywood City Council declined to accept recommendations by local residents that a satisfactory federal CRA rating be mandatory.
David Wilson, the city's assistant city manager who oversee its financial activities, has said the federal CRA wasn't included out of a belief that the federal government's position doesn't always align with that of the City of West Hollywood on social issues.
The CFPB's online database may not be around much longer.  Mick Mulvaney, who Donald Trump has named as the bureau's acting director, has suggested ending public access to the database, which is something financial institutions have asked for.
"The bureau has used the complaints to spot patterns of bad behavior," reports The New York Times.  "A wave of complaints about Wells Fargo helped spur the agency's investigation and exposure of the bank's sham accounts. Complaints have also prompted actions against student loan servicers, debt collectors, mortgage lenders and credit card companies."