A group of at least four men, with at least one of them armed, robbed two West Hollywood residents near or at their homes on Harper Avenue Saturday night.
Tara Mart, one of those robbed, described the incident, which occurred at 9 p.m., in a post online. "Last night I was robbed right in front of my building for my Android," she wrote. "…. There were 3 men who got out of a late model light colored vehicle and one of them walked up and grabbed my phone out of my hand. As he fled, a gun fell to the ground and one of the other men picked it up and also fled to the waiting vehicle."
Mart said another man, apparently the driver of the car, remained inside it.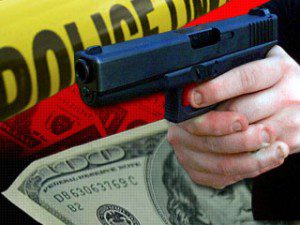 Sgt. Lance Eddins of the West Hollywood Sheriff's Station said one of the incidents occurred in the 1000 block of Harper Avenue and the other in the 1200 block. Given that both occurred around 9 p.m. and that deputies were given similar descriptions of them, he said it was likely that the same group was involved in both. Eddins said a similar incident occurred just outside of West Hollywood in Los Angeles. All of the incidents remain under investigation.
While WEHOville has been unable to confirm details, the other incident is said to have involved the men knocking on someone's apartment door on Harper Avenue and robbing him when he answered. The group was said to consist of one African-American man, described as "about 5′ 11″, young, skinny … with a fade" and three Latino men.
In her online post, Mart warned her neighbors to be careful. "These guys are driving up, robbing you and driving off. They are armed, so PLEASE be aware of your surroundings. If I didn't have my face buried in my phone and was paying attention, it may not have happened.."