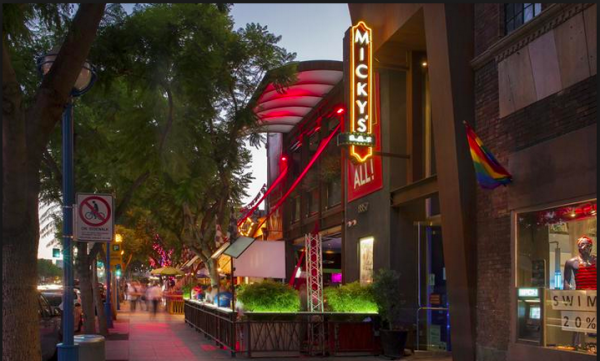 Micky's, one of West Hollywood's most popular gay bars, is facing criticism for alleged assaults of customers by its security guards and financial misconduct and rude and racist treatment of women by its bar staff.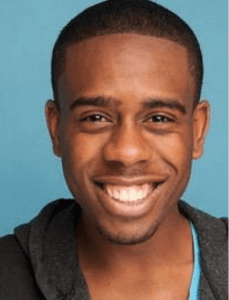 The latest alleged assault occurred on Sunday, April 22, when two guards hustled a young African-American man out of the bar without explaining why. That man, Andrew Hampton, 29, alleges that they tossed him onto the sidewalk, where he landed on his head. He was taken by an ambulance to Cedars-Sinai Medical Center where he had four stitches to repair lacerations on his skull. He now has to have a broken tooth repaired.
The incident involving Hampton was confirmed by a friend who, wary of publicity about the matter, asked that he be identified as Steven Ross. Ross, who is Caucasian, was with Hampton at the bar and had been dancing with him. Three people walking on the sidewalk outside the club also confirmed the incident on the sidewalk. In an interview with WEHOville, Hampton said that he stepped out of the restroom at Micky's and two security guards immediately demanded that he leave. Hampton said that he asked multiple times why he was being ejected, but the guards didn't respond.
Hampton said he slowly walked toward the exit, repeatedly asking why he was being thrown out, with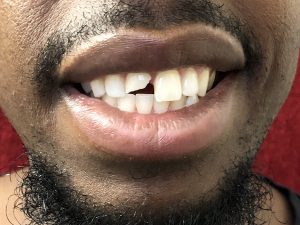 the two security guards walking behind him. As they neared the doorway to the bar's lobby on the first floor, Hampton said he found himself wedged between a cocktail table and a pillar. Hampton's friend Ross said that at that point the security guards grabbed Hampton under his arms and tossed him head first onto the sidewalk outside. A witness on the sidewalk said that one of the guards fell on top of Hampton, who is 5 feet, 8 inches tall and weighs 145 pounds.
"Near the front door, the bouncers heaved him up, tossing him out the club entrance where he landed on his face," Ross said in a report to the Sheriff's Station. "His arms had been restrained behind his chest and sides, so he landed on his head and mouth. When Andrew landed he didn't move immediately, and as I walked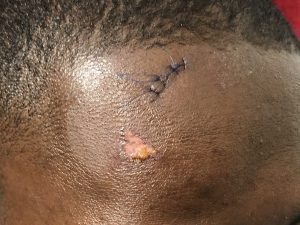 around him to his head I saw blood on the ground. As I helped him up I saw his right forehead had an inch-long laceration and another abrasion which were bleeding and his right front incisor was chipped and visibly fractured. Before I saw his injuries I was yelling at the security staff that this sort of violence was not necessary."
Ross said two other members of the security staff offered him a bar towel to wipe the blood off Hampton and some bandages. He said a manager stepped outside but didn't speak to either him or Hampton.
Michael Niemeyer, the owner of Micky's, said Hampton's assault allegations aren't true.  Niemeyer said that Sheriff's deputies reviewed the bar's security video of the incident with Hampton and "found no wrong-doing. There were no charges filed."
"He was masturbating.  He was intoxicated," Niemeyer said of Hampton, who a security guard said had been masturbating in the men's room.  "They asked him to leave I don't know how many times.  He and one of the security guards both tripped."
A search of reviews of Micky's on Yelp and on Google shows claims of similar incidents. One involved Nicole, 31, a Caucasian woman, who asked that WEHOville not use her last name to protect her privacy. In a telephone interview, Nicole said that on Halloween last year she went into the restroom at Micky's to wash her hands and accidentally washed off the ink stamp on her arm that would have allowed her to re-enter the bar later without repaying a fee.
Nicole said that she approached the man who applied the stamps and asked him to stamp her again. "He didn't even listen to what I said," Nicole said. "He called security."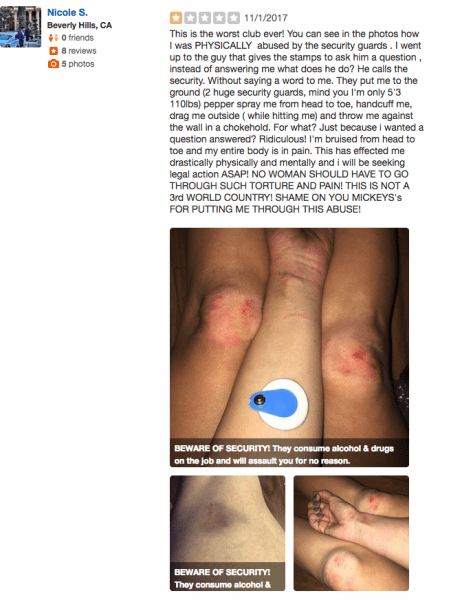 Nicole said she was dragged outside onto the sidewalk. "One of the security guards twisted my arm. Another twisted my other arm. My arm hurt, and I started screaming and fell on my knees. At this point, I'm in excruciating pain. Other security guys tried to grab me. I screamed 'I'm in pain, don't touch me.' I spit my gum out, and when it hit his face he shoved my face into the wall. I got a little cut on my eyebrow. Luckily I had turned my face to the right, otherwise, it would have gotten really damaged."
Nicole said the security guards handcuffed her and called the Sheriff's Station. "Everyone was telling them to leave me alone. I was shaking, I was having a panic attack, I was screaming at the top of my lungs."
While Nicole said in her Yelp post that she had been sprayed with pepper spray, she now believes that didn't happen and that she was reacting to a spray into her eyes administered by a medical technician.
Niemeyer also denied Nicole's allegations.  "She was never admitted into Micky's," he said. "She did not have a stamp.  She refused to pay the door charge.  She spit in his face. She slapped him."
Michael A., who lives in Palm Desert, said on Yelp that he had witnessed the incident described by Nicole.  "I have never seen anything like it (I was horrified) as much as West Hollywood preaches about equality and fair human rights this was a act of assault and a disgrace to our community."
Since January 2017, a number of other allegedly violent acts by Micky's security staffers have been called out on Yelp and Google. However, other than Nicole, WEHOville has been unable to contact the people making those allegations to get details. One was posted on Oct. 7, 2017, by a man named Anthony N. of Long Beach, who WEHOville has identified as Anthony Nunez. "One of the worst experiences of my life involving a gay club/bar," he wrote on Yelp. "Straight abusive dancers and even more violent bouncers who threw me down a flight of stairs for innocently touching a straight dancer at a homosexual filled club."
Another act of violence was alleged on Yelp on Oct. 12, 2017, by a woman identified as Sasha V. of Compton. "What kind of establishment is ok with their bouncers and security staff literally beating a partygoer up??? They broke his nose and his face is all swollen and bruised! My friend went out last night to Micky's and was beaten up outside by the people who work there."
In a post on March 5, 2017, a man identifying himself as Gabriel E. of Riverside said he "witnessed one of the security guards come running at a drunk little gay boy & straight deck him in the face! Right in the eye! I don't care what kind of mess of a scene he might have causer earlier in the night, this was a really dirty move." A woman who identifies herself as Jr R. of Central LA and West Hollywood described what apparently was the same incident in a post on April 13, 2017. "There's a bouncer with ear pearcings (sic) and wears a hat. He's weird and I saw him smack a drunk customer on the head a month ago. Then he laughed about it. I was waiting in line and decided not to go in after I saw that."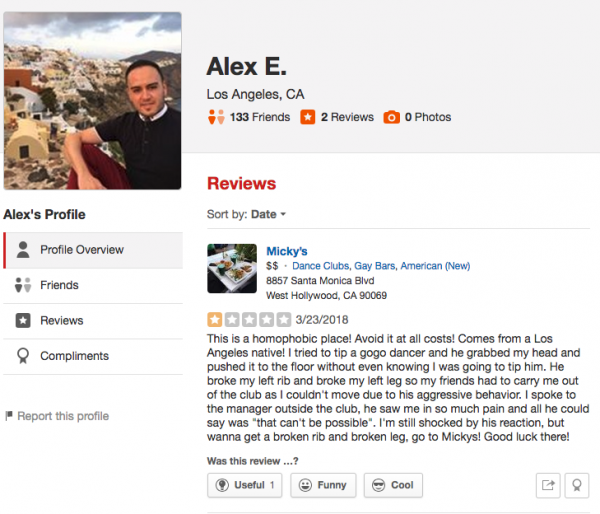 On March 3 of this year, a man identified as Alex E. of Los Angeles made a post on Yelp declaring that Micky's is a "homophobic place." Alex said that when he tried to tip a go-go dancer, "he grabbed my head and pushed it to the floor without even knowing I was going to tip him. He broke my left rib and broke my left leg, so my friends had to carry me out of the club. I spoke to the manager outside the club, he saw me in so much pain and all he could say was 'that can't be possible'."
In a review posted a year ago on Google, a man identifying himself as Andre Wells described another incident: "After being there for a while, they kicked one of our friends out. We proceed to leave and my friend, who is 5'6″ 130 lbs gets tackled to the ground by 3 of their security guards. After that, two other guards came after two more of my friends and choked them out. They also punched him in his face, broke his nose, and even bit him on the neck. In addition to all of that. They went through their pockets and wallets while they had them pressed against the ground and took their money. They also took my phone as well."
Customers also have alleged misuse of their credit cards by bartenders, mostly with complaints that they had been charged unexpected tips. They have called out bartenders for other rude behavior and for refusing to offer them water between drinks unless they pay for bottled water. Making water available at bars is widely seen as a way to reduce serious intoxication. And there have been multiple complaints of misogynistic and racist behavior by the staff, with women claiming they have been called "bitches" or "c-nts" and one woman alleging a friend was called an "ugly fat black bitch."
Niemeyer disputed the complaints on Yelp, saying that if customers have complaints they should reach out to Micky's directly rather than simply post a complaint online. "If we get a complaint the next day, on the telephone or an email, I actually see it myself," he said. "These people never do that.  If we do something wrong, I apologize."
"If people look at our club, we have one of the most racially diverse staff in the city," Niemeyer said.  "We also have women on security."

Nicole S. said that she has engaged a lawyer to explore the possibility of filing a lawsuit against Micky's. She said that Sheriff's deputies who investigated the incident the night that it happened did not file a police report. She said she went to the Sheriff's Station the next day to do that and met with a detective who strongly encouraged her to drop the matter and became upset when she declined. She said the detective warned her that the fact that she had spit gum on the face of the bouncer who slammed her head into the wall meant he could sue her for assault. Nicole said the District Attorney's office has declined to pursue the case.
Hampton said he felt he also got little support from the Sheriff's deputies. His friend, Steven  Ross, said it took more than 30 minutes for the deputies, who are stationed a few hundred feet across Santa Monica Boulevard from Micky's, to respond to his call for help. By the time they arrived, Stevens said, Hampton had been taken to the hospital.
A Sheriff's deputy who identified himself only as "A. Gomez" filed a report on the incident, with a statement from one of the security staffers, Andy Mendoza.  In his report, Gomez, using "S" for suspect and "V" for victim, said: "S/ Mendoza grabbed V/Hampton's upper body and the other security guard grabbed V/Hampton's legs. They lifted V/ Hampton to take him outside.
"S/Mendoza stated V/Hampton had blood coming from his head and was dripping on S/Mendoza's arms. S/Mendoza stated he had cuts on his left arm and was scared that V/Hampton could have a disease. S/Mendoza did not want to contract anything from V/Hampton and let go of him. S/Mendoza left him on the ground and then contacted paramedics for V/ Hampton."
Gomez said Mendoza claimed Hampton was thrown out of the club because he was drunk and had been masturbating in the restroom, which is staffed by an attendant. Hampton denied that he had been masturbating, noting that he was in the restroom only three to four minutes. He has conceded that he was mildly intoxicated but not drunk. He told WEHOville that he and Ross had had three alcoholic drinks each, but had switched to non-alcoholic beverages between each of them. Ross and Hampton noted that Gomez didn't interview the tall, African-American security guard who also was involved in the incident.
EDITOR'S NOTE: An earlier version of this story erred in giving Andrew Hampton's age as 32. Hampton is 29. The story has been corrected.