Reality TV star Lisa Vanderpump and reality TV culture are inching their way deeper into West Hollywood's gay Boystown with Tom Tom, a restaurant at 8932 Santa Monica Blvd. projected to open late next month or early this Summer.
Nick Alain, the designer of the restaurant, has posted on his website an illustration of part of the elaborate interior of Tom Tom. A video on his Instagram account (posted at the top of this story), shows Alain touring the interior with Vanderpump, a star in Bravo's "Real Housewives of Beverly Hills," and her husband, Ken Todd.
Tom Tom is located a few hundred feet from PUMP, the restaurant and bar that Vanderpump and Todd opened on the southeast corner of Santa Monica and Robertson boulevards in May 2014. PUMP has become a go-to spot for reality TV aspirants and stars and those who love them.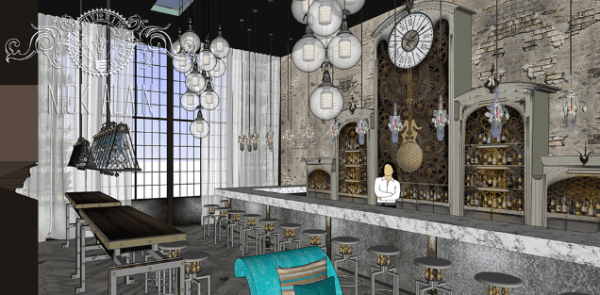 Around the corner, on Robertson Boulevard in West Hollywood's Design District, is Vanderpump's Sur, which rivals PUMP as a destination for reality TV fans and wannabes and is the site of "Vanderpump Rules." That Bravo reality TV show features the squabbling between the restaurant's celebrity-ambitious servers, who include Tom Sandoval and Tom Schwartz, for whom Tom Tom is named. (Schwartz, however, no longer works at Sur, although he is frequently on the show, which chronicles allegations of his cheating on Katie Maloney, his wife and another Sur employee.)
Tom Tom replaces Showtime, a men's apparel store focused on a gay male audience, which has moved to the south side of Santa Monica Boulevard, still a reliably gay block. Adjacent to it is Bottega Louie, still under construction, which is the WeHo offshoot of the restaurant, patisserie and café by the same name located in downtown Los Angeles.
There are still some gays in the neighborhood. Sandwiched between Bottega Louie and PUMP is Motherlode, the classic gay dive bar, which is undergoing a renovation of its own. Its owner and employees promise it won't lose its dive bar vibe. And just to the east of Tom Tom is Beaches, recently opened, a two-level bar that caters to a gay clientele.