Several dozen West Hollywood residents got their fur ruffled when a local man posted a photo of what appeared to be a severed dog paw that he found on Havenhurst Drive yesterday.
But before getting your fur ruffled, dear reader, read on ….
The paw "appears to have been chopped off by someone with an extremely sharp instrument, Stefen Liberti said in his post on NextDoor.com, a neighborhood website. Liberti said he found the paw on the ground in the 1000 block of Havenhurst south of Santa Monica while he was walking his own dog.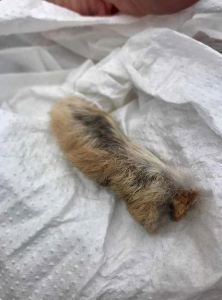 "I sincerely hope whoever committed this heinous barbarism on a dog, is swiftly found and brought to justice, in whatever form it takes because this is a monster amongst us, and should be put away for life."
"Not knowing what to do with the paw, I dropped it off at Laurel Pet Hospital," Liberti wrote. "They currently have the paw, and will be handling it from here on out."
His post on NextDoor drew several dozen comments from residents, with some guessing it was a coyote's paw and others asking if Liberti had notified the police.
Some vegans also chimed in. "I hope the person who reported it has never touched meat in their life," wrote one person. "I see far more gory images in supermarkets."
The post also prompted complaints from several residents about what they have seen as a surge of crime in the area, a claim that isn't substantiated by reports from the West Hollywood Sheriff's Station.
"This is atrocious! I blame this squarely on the politicians (and those who vote them in) who not just turn a blind eye to the criminals but welcome them in instead of protecting the tax paying, law-abiding citizens who live here," wrote one neighbor.
Late this morning, after Laurel Pet Hospital had examined the paw, Liberti followed up with another post on NextDoor that likely will let dog lovers breathe a sigh of relief. However, rabbit lovers now have more reason to hold their bunnies tight.
"They informed me that the paw wasn't a dogs paw after all," Liberti said of Laurel Vet. "It was a bunnies paw, cut to be turned into a keychain. So, I'll be removing this post tomorrow. Thank you all for your care and concern. :)"