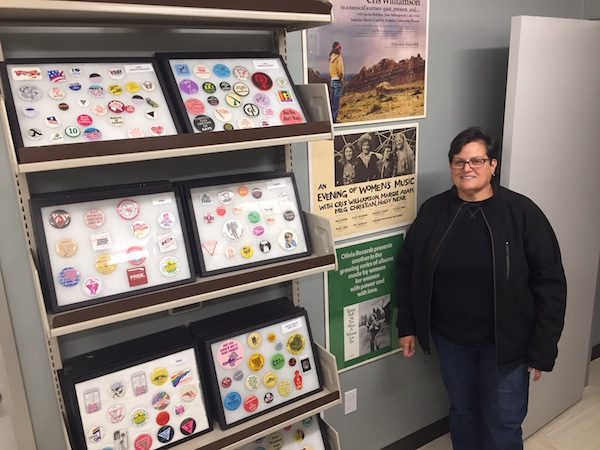 Angela Brinskele, the director of communications for the June L. Mazer Lesbian Archive, came to the West Hollywood-based collection of lesbian and feminist documents and memorabilia in the most unusual way.
In 2007, Brinskele was living in Long Beach and involved in a social group for lesbians 40 years and older when representatives of the Mazer archive did a presentation to the group.
"During the presentation, they started asking lesbian history questions and I knew all the answers," recalls Brinskele, who is now 56. "They said, 'OK, you have to come get involved with the archive. You know more than we do!' So, I started volunteering and really loved it."
Three years into her volunteering, the Mazer offered to hire Brinskele as its only paid employee, working 18 hours a week staffing the archive on Tuesday afternoons when it is open to the general public, plus on weekends and other times by appointment, as well as handling social media and other inquiries.
One of only ten lesbian archives in the world, the Mazer Archive houses personal papers, group records, scrapbooks, flyers, posters, artwork, photographs, newspapers, magazines, records, videotapes, manuscripts, books and much more. Its tagline is "Where Lesbians Live Forever."
Brinskele is frequently amazed at the requests she gets from researchers, but also thrilled she can always accommodate them. One time a researcher asked for information about the architecture of women's spaces. Brinskele was hesitant, unsure if they had anything along those lines. But when she opened a box of papers from a women's center and she found it included blueprints of the building. The researcher was delighted, got the information she needed and made a point of thanking the Mazer in her book.
"I've learned whenever a researcher asks me do you have absolutely anything, I now say, 'Yes, we do,' because we've never not had something of what someone was coming to look for. It's really never happened for me," she says proudly. "So, I'm batting 1,000."
Reopening on Sunday
On Sunday, the Mazer is celebrating its reopening in the newly renovated, and now ADA-accessible, Werle Building at 626 Robertson Blvd., just north of Melrose. The Mazer's contents were in storage for 18 months while the city of West Hollywood did extensive remodeling of the Streamline Moderne-style Werle Building which also houses the West Hollywood Recovery Center where 12-Step recovery groups meet.
Sunday's "homecoming," held from 2 to 5 p.m., will include guided tours of the archive as well as speeches and refreshments. The event is free, but RSVPs are requested so they can be sure to have enough food. Make reservations online here.
The reopening also will feature a special exhibit about the defunct Sisterhood Bookstore, a lesbian and feminist bookstore that was located on Westwood Boulevard, a few blocks south of Wilshire, from 1973 to 1999. Simone Wallace, one of the Sisterhood owners, will be on hand to talk about the bookstore and its impact on the community.
"The Sisterhood was so much more than a bookstore," Brinskele said. "It was really a community center too. They had a little room where you could go and post fliers and cards about everything going on in the community. I've met so many women who said they got their first apartment or their first jobs from the notices at the Sisterhood. It was just an amazing community store, so having this exhibit and Simone speaking will be a special part of our grand reopening."
Now that the Mazer is back in the Werle Building, look for it to hold regular events, like lectures, author talks and exhibits.
"We are a community archive, so we plan to hold events that highlight that," Brinskele said. "This renovated building easily allows from having events, so we want to take advantage of that and invite the community in."
History of Mazer Archive
People often confuse the Mazer Archive and the ONE Archive, which also has exhibit space in the Werle Building. The ONE Archive, which is located on Adams Boulevard at the University of Southern California (USC), is the largest LGBTQ archive in the world. However, the ONE Archive is primarily gay male-oriented.
While the Mazer and the ONE archives have collaborated, their missions are somewhat different. The Mazer collects lesbian history from a lesbian and feminist perspective and also has connections to UCLA Libraries.
"This history is not preserved most places," said Brinskele, who reports the archive is funded by community donations. "Some of the things we have are incredibly rare. Women believe if they don't preserve their history, who will."
The archive started in 1981 as the West Coast Lesbian Collections, based in Oakland. However, by 1987 the collection was in danger of closing; its contents were to be moved to storage, likely to be sold off. Around that time, June Mazer and her partner Bunny MacCulloch did an article on the collection for the newsletter of Southern California Women of Understanding (SCWU), a lesbian social group (the archive now houses SCWU's organizational papers).
Rather than see the collection dismantled, Mazer and MacCulloch moved it to their home in Altadena, near Pasadena. After Mazer died from cancer, MacCulloch and others persuaded the city of West Hollywood to donate space in the Werle Building to house the archive in 1989. Since Mazer was responsible for saving the collection, they officially changed the name to the June L. Mazer Lesbian Archive.
While the Werle Building was under renovation last year, the City of West Hollywood paid to store the collection at Pacific Title Archive, a professional film and archive storage facility on San Vicente Boulevard, near La Brea Avenue. During that period, scholars were able to make appointments with Brinskele to visit the storage facilities and conduct their research.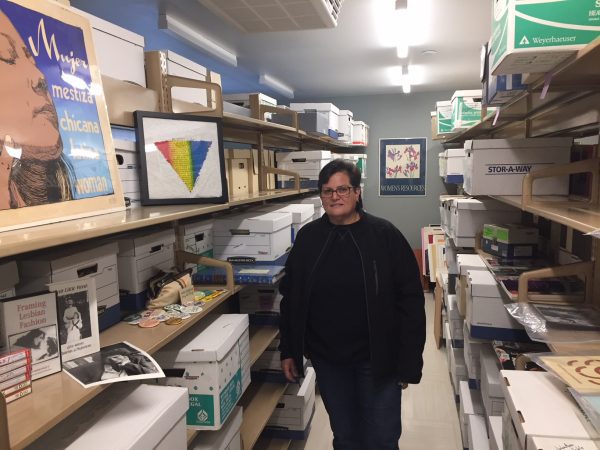 Everyday Lesbian Archive
Despite being located in Southern California, the Mazer archive is not a celebrity archive. Oh sure, it has a few celebrity-oriented items, including the award that Betty DeGeneres, mother of lesbian comic and talk-show host Ellen DeGeneres, received from PFLAG. But celebrity is not the archive's focus.
"We're really considered, and we are really proud of being, the everyday lesbian archive," Brinskele said. "So many women, if their collections weren't here, they'd be nowhere; they'd be gone. No one is saving lesbian stuff as a habit. When they die, it gets chucked into a dumpster pretty much, especially if their family is not happy about them being a lesbian. It might even get set on fire."
Brinskele reports the archive is a treasure trove of untold real-life stories where writers and filmmakers might find inspiration.
"These women have unbelievable stories. I would love them to be made into films or documentaries or written into books," she said.
One such story is of Ester Bentley, a six-foot-tall lesbian and a lifelong Catholic who was adopted as a baby in Kentucky and became a social worker for children. Bentley also played field hockey at a time when women weren't supposed to.
"Ester led an amazing life," Brinskele said. "Her story would make a fantastic movie. And we have her papers."
One of the most valuable things the archives stores is copies of the organizational papers of the Daughters of Bilitis, the world's oldest lesbian civil rights group, founded in 1955 in San Francisco.
"This archive holds so much feminist and lesbian history of California and specifically the feminist movement in Los Angeles," Brinskele said. "That's some our biggest treasures."
The Mazer also has a collection of risqué lesbian pulp fiction novels from the 1950s and 1960s, plus many lesbian-oriented newspapers and magazines (including Dyke Magazine, an oversize glossy magazine that cost $3 per issue in the 1970s, when most magazines cost less than $1). It also has lots of photos, concert posters, event flyers and more.
"So many people come here and see the posters and fliers and go, 'I was at that concert' or 'I was at that event'," Brinskele said. "We stir up so many memories for people."
Photography and Baseball
One of five children raised in a Catholic family, Brinskele was born in New Jersey, but the family moved to California when she was five. She spent her teenage years in ultra-conservative Orange County, during a time when Disneyland officials escorted two young women off the property for dancing together.
Shortly after she started at Fullerton College and joined the campus gay organization, the campus administration decided to defund the gay group. The club president hired the ACLU and sued Fullerton College. The court ruled that if the community college funded any campus groups, it also had to fund the gay group. However, the group's victory was short-lived as the administration opted to abolish all clubs on campus rather than fund the gay one.
"I was studying to be a photographer and in the back of my mind, I said, 'I am photographing LGBT people for the rest of my life,' although we said 'gay community' back then. And I did," said Brinskele, recalling her devastation at the news.
She started coming to Los Angeles to take photos of gay events, especially gay Pride. She's photographed every LA Pride since then, plus traveled around the country to many other Pride events.
In the 1980s, she also attempted to photograph LGBT people outside Pride events but was routinely refused as people tended to still be closeted. However, by the mid-1990s, people were feeling more secure and began allowing her to photograph them. She has since amassed a large collection of photographs, many of which she has donated to the Mazer and to UCLA.
"The most important thing to me was to document [via photography] the gay community, especially the lesbian community," said Brinskele, who later transferred to Cal State Fullerton and studied sociology.
Frequently, she comes across things in the archive that have special resonance in her personal life. As a child, she wanted to be a baseball player but was never allowed to try out. When she started volunteering at the archive, she found it had baseball uniforms from the All-American Girls Professional Baseball League (that story is chronicled in the 1992 movie "A League of Their Own"), as well as a contract for a woman to play professional baseball in that league.
"I'm just blown away that any other woman wanted to play baseball because I thought I was the only one," Brinskele said. "And that women were allowed to play professional baseball before I was born and I still can't try out for a professional team today. That blows me away. The whole point is that material is here and I would never have known if I didn't come here."