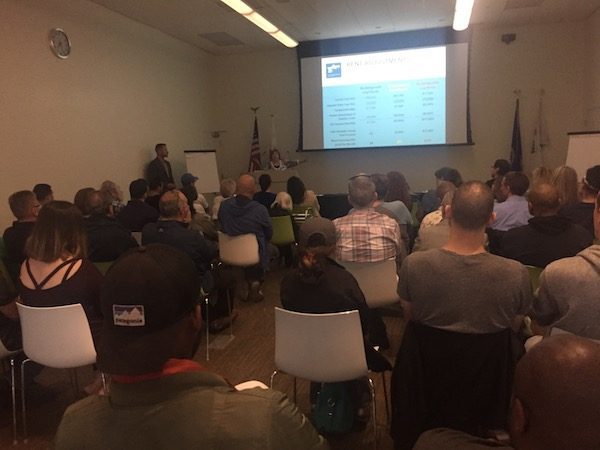 Renters likely will have to absorb some of the costs for earthquake retrofitting of their apartments. The questions still to be determined is how much of the costs tenants will have to pay and how those costs will be passed along.
That was the message coming out of a community meeting held Wednesday night to get feedback regarding West Hollywood's new apartment earthquake retrofit law.
"There is no scenario where we have absolutely no potential for some form of an increase [in rent] to tenants," said Peter Noonan, the city's acting director of human services and rent stabilization.
However, Councilmember Lauren Meister assured attendees the city has not yet determined what percentage the city will require tenants to pay or how those costs will be passed along.
With a standing-room-only crowd of about 75 people attending, tenants and landlords alike were frustrated and confused. Several times, the meeting turned into a shouting match as people shared differing opinions.
The City Council recently passed a law requiring apartment owners to do the necessary upgrades to their buildings. The city commissioned a study in which 820 buildings were identified as being at potential risk for collapse when a major earthquake inevitably hits Southern California. Those buildings are primarily older "soft story" buildings that have ground-level parking with units above often held up by posts or poles.
The city's Rent Stabilization Commission will make a recommendation regarding costs in late June or early July. Then the City Council will make a final decision, likely in August. Once the city sends out official notices to landlords that they need to do retrofits, landlords will have five years to complete the retrofits.
Kathleen Head, a managing principal with Keyser Marston Associates, the consulting firm the city has hired to help with this retrofit process, told attendees there are two different ways for handling the costs. One would be a rent increase that would be permanent with no hardship waivers allowed, but the increase with have to be justified. The other would be pass-through costs that would end after a specific period of time and would allow for hardship waivers, but no justification would be needed.
Head noted both Los Angeles and San Francisco have passed similar earthquake retrofit laws and both cities chose the pass-through cost option. Los Angeles limits pass-through costs to 50% of the retrofit costs, with a maximum increase of $38 a month for a period of no more than 10 years. San Francisco has a similar program that allows a building owner to pass through 100% of the retrofit costs over 20 years, with a limit set at 10% of the monthly rent or a maximum of $30.
Many tenants did not understand why they should pay any of the retrofit costs.
"You guys are asking for way too much pity from us for the landlord," shouted one person attending. Others noted that their landlords won't even pay for basic building maintenance or the required new carpeting every seven years.
However, several landlords at the meeting said that if the costs are too high, people will not buy buildings in West Hollywood or invest in upgrades.
Noonan explained the city's rent stabilization ordinance allows apartment owners to make a reasonable return on their investment. Taking on all of the costs of the retrofits, which could range from $100,000 to possibly $1 million depending on the type and size of the building, could potentially put those owners in serious debt. With such debt, the owners might choose to Ellis the building [i.e., evict all the tenants and go out of the apartment rental business], or sell it to someone else who likely would also Ellis the building, tear it down and build more expensive, luxury apartments.
"This is to preserve our aging, rent-stabilized housing stock," said Noonan. "If we put too much burden on landlords, they will choose to leave the rental market."
About 80% of West Hollywood's residents live in apartments. The vast majority of those buildings were built more than 40 years ago when there were less stringent earthquake building codes.
One person asked why earthquake insurance didn't cover these retrofit costs. Noonan explained that earthquake insurance covers damages after an earthquake has happened. These retrofit costs are to help avoid damage beforehand and preserve the rent-control units. Noonan noted that about 5,000 rent-control units in the city are occupied by people with very-low income.
Noonan further explained that if a building is damaged in an earthquake, an owner might opt to tear it down and build a new building rather than do extensive repairs. Any new building would rent at market rates.
Several people feared this was a first step toward dismantling the city's tough rent stabilization laws, which cover buildings erected before 1980. However, Rob Bergstein, one of five Rent Stabilization Commissioners attending the meeting, assured them it was not the case.
"There is no ending of rent control. It's a bedrock that this city is founded upon. No one in any way is suggesting rent stabilization is going away," said Bergstein. "Rent stabilization is here to stay."
Resident Esther Baum suggested the pass-through costs should vary depending on the size of the apartment; someone living in a two-bedroom apartment should pay more than someone living in a studio apartment.
Noonan acknowledged that was a good point and something they should consider before making a final decision on the specifics of the law. City staffers kept detailed notes about concerns residents raised.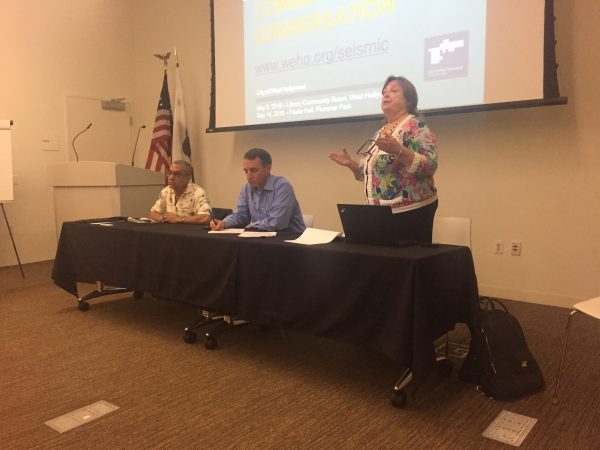 Among other concerns:
Several people wanted to know if pass-through costs would go into effect immediately or only after the retrofitting had been completed. Noonan said that has not yet been determined.
Some people wanted to know if the cost of assessing a building for specific retrofit needs would also be passed on to tenants, or just the cost of the retrofit itself.
Along similar lines, some wondered if a landlord has to get a loan to pay for the retrofit costs, will the tenants also have to pay for the interest cost on the loan.
Someone else, fearful landlords might end up making a profit from the pass-through costs, demanded transparency about the costs. She wanted to know who would be policing the matter, keeping an eye on the books to guarantee tenants only pay for the exact costs associated with their building and nothing more.
Another attendee asked whether landlords would pay for relocation costs, such as a hotel room, while retrofitting is taking place. However, Meister told attendees that the vast majority of the retrofitting work will be external.
One person suggested rather than the City Council make the final decision about rent increases vs pass- through costs and the percentage, the city should hold a voter referendum to make the final decision. Josh Kurpies, one of the Rent Stabilization Commissioners in attendance, said that was an option they could explore.
After the meeting, Noonan told WEHOville he was happy with the discussion.
"I think there were a lot of concerns expressed and a lot of questions. But I come away from this believing that landlords and tenants both essentially want to find a good solution that works for both and want to maintain rent stabilization in the city," Noonan said.
The city will hold another feedback meeting on earthquake retrofitting on Monday at 7 p.m. in Fiesta Hall in Plummer Park.
For more information about the seismic retrofit program, visit www.weho.org/seismic The city also has launched an online survey for tenants and landlords to offer feedback.