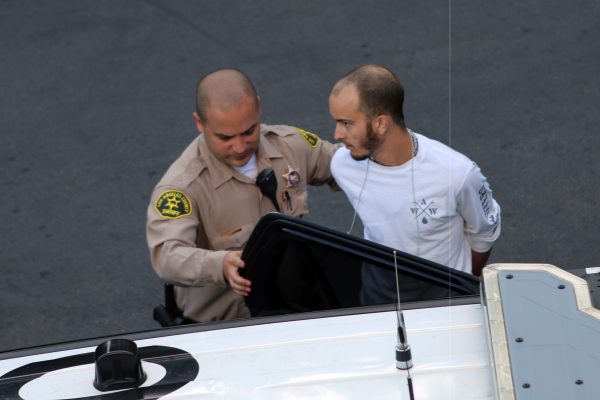 At around 6:30 p.m. yesterday, West Hollywood Sheriff deputies responded to a reported traffic collision at the Comedy Store on Sunset Boulevard. According to witnesses, a white colored Nissan 370Z coupe was driving erratically on Sunset. The driver of the vehicle careened down an alley to the back parking lot of the Comedy Store at a high rate of speed, then struck a vehicle parked in the back parking lot.
Eyewitnesses said that after the collision, two men got out of the car and attempted to flee on foot, but were detained by Comedy Store employees and other witnesses.
Deputies quickly took the two men into custody. The Sheriff's Station watch commander said one person was arrested and another person was transported to a local area hospital for a medical evaluation.
An ANG News photographer observed a white two-door coupe about 10 minutes prior to the accident driving erratically at the intersection of Sunset and La Brea in the City of Los Angeles. No additional details were immediately available from the West Hollywood Sheriff's Station.