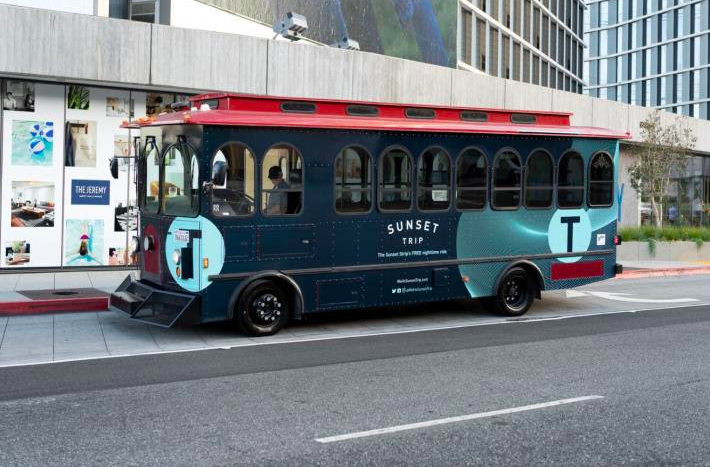 West Hollywood will launch a Sunset Strip version of its PickUp free trolley service, which provides free rides on Santa Monica Boulevard during evening hours on the weekends.
The Sunset Trip will launch next month, with a celebration of that launch taking place from 6 to 8 p.m. on June 2 at 1OAK at 9039 W. Sunset Blvd.
An announcement of the trolley says it "will be a convenient hop-on/hop-off trolley for getting around Sunset Strip venues and connecting to hot spots on Melrose Avenue, Santa Monica Boulevard, and other West Hollywood locations. The Sunset Trip's bold black trolleys, marked by a giant circular 'T' and accented with an acoustic-wave color-splash, will operate on Fridays and Saturdays from 7 p.m. to 3 a.m."
The PickUp travels along Santa Monica Boulevard between Robertson Boulevard and La Brea Avenue on Fridays and Saturdays from 8 p.m. to 3 a.m. and on Sundays from 2 p.m. to 10 p.m.
Riders on the Sunset Trip and the PickUp will be able to connect trolley services at two stops at Santa Monica Boulevard and San Vicente Boulevard and Santa Monica Boulevard and Fairfax Avenue.
More information about the Sunset Trip can be found online.