It's going to be a very "Stormy" evening next Wednesday in West Hollywood with the appearance of Stormy Daniels, aka Stephanie Clifford, at Chi Chi LaRue's.
Daniels will appear at the erotic clothing and accessories store at 8861 Santa Monica Blvd. from 7 to 9 p.m. to promote her new TeamStormy t-shirt line.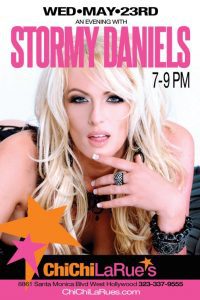 Daniels, a porn performer, is famed for her claim that Donald Trump's lawyer, Michael Cohen, paid her $130,000 in hush money to conceal her alleged sexual affair with Trump. Anyone who follows the news, whether real or fake, knows that Daniels has sued Trump, claiming that a non-disclosure agreement that Cohen made her sign is invalid because it does not include Trump's signature.
Daniels has taken advantage of the overwhelming publicity about her alleged sexual encounter with Trump, using it to promote her "Make American Horny Again" tour, which is a play on Trump's "Make America Great Again" campaign slogan.
Her TeamStormy t-shirts, which can be purchased online, say #TeamStormy on one side. On the other side the caption is: "Severe Weather Announcement — Stormy 60 Minutes Ahead – -Watch Out For Damage To Your Hair Style Or Presidency."
Donald Trump's election has brought lots of attention to West Hollywood, a city whose residents are mostly Democrats. Then-Mayor Lindsey Horvath got national attention in March 2016 when she mailed a letter to the White House saying that Trump was not welcome in West Hollywood. WeHo's reputation as a Democratic liberal enclave brought Fox News provocateur Tomi Lahren to town twice to walk the streets criticizing West Hollywood's sanctuary city status.