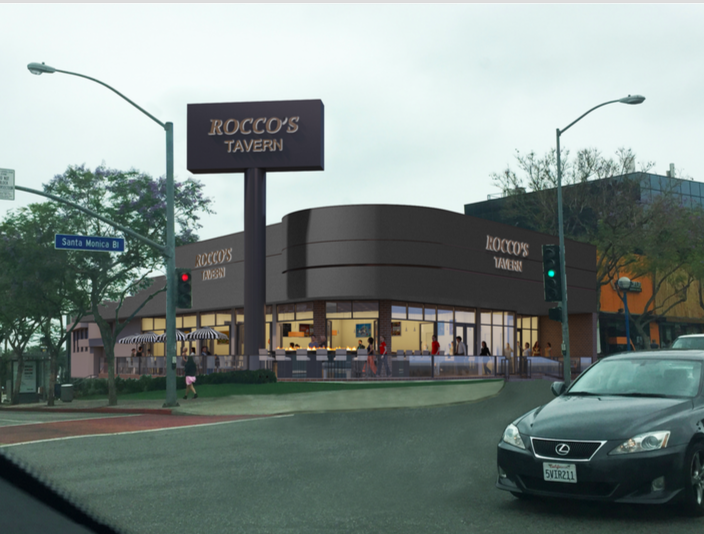 With a 6- to 1 vote on Thursday night, West Hollywood's Planning Commission approved a new Boystown restaurant and lounge that is partially owned by singer Lance Bass.
The openly gay Bass, who came to fame as part of boy band NSYNC, is a partner in Rocco's Tavern, a sports bar that will also have live music, set to open later this year at 8900 Santa Monica Blvd. Bass will handle the booking of the music acts.
"I've always wanted to try doing a place in West Hollywood, especially bringing the live music element," Bass told the commissioners. "I'm looking for really great live music to bring in; jazz, blues and really focused on LGBT-lead entertainment also. [Los Angeles is] the entertainment capital of the world and we don't do much live entertainment here, which is crazy."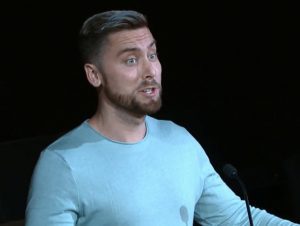 The space, which formerly housed a Citibank branch, is being transformed into a 3,500 square-foot restaurant with a large outdoor patio, plus a lounge area for the live music.
While the other four Rocco's Taverns (in Culver City, Studio City, Westwood and Pasadena) are primarily known as sports bars with great food, this will be the first one to have live music.
The restaurant will serve pizza, pasta, sandwiches, burgers and salads. Bass, who hails from Mississippi, told the Commission it also plans to offer weekend brunches, during which he hopes to serve Southern food like barbeque and buttermilk biscuits.
While the commissioners were excited about the project, they were concerned about Lyft and Uber drop-offs and pick-ups on the perpetually busy southwest corner of Santa Monica and San Vicente boulevards. They required that Rocco's submit a plan for dealing with traffic congestion to the city for review as well as post signs directing people to parking and drop-off/pick-up zones.
Commissioner Lynn Hoopingarner cast the sole vote against the project, concerned about the possibility of noise from live music disturbing residential areas. The nearest apartments are 425 feet north of the restaurant on San Vicente Boulevard.
During the public comment period, Norma Triangle resident Bobbie Edrick also expressed concern about noise from the live music.
"I'm all for the restaurant because we do need another good restaurant, but live entertainment is a problem," said Edrick. "We have major problems with The Abbey and with Rage. Live entertainment in a one block area is really an issue."
The commission debated requiring that the windows to the patio area be closed during live performances to cut down on noise escaping from the site but ultimately allowed the windows to remain open. However, to avoid ongoing noise problems disturbing residential areas (as has happened with Catch, the rooftop restaurant on the northwest corner of Melrose Avenue and San Vicente Boulevard), the Commission scheduled Rocco's to come back for a review 30 days after opening, followed by reviews at three months, six months and one year.
After getting the approval, Rocco's co-owner Roger Toussaint told WEHOville he was excited to be coming to West Hollywood.
"We've been looking in this area for a long time and haven't been able to find the right space," said Toussaint. "We just hope we do something great for the neighborhood."
Although opening a sports bar in a neighborhood with a largely gay clientele may not seem like the best business plan, Toussaint said they expect to be successful, especially since they are including live music.
"I think it's a misconception that gays don't like sports. There are a lot of straight people who don't like sports either," Toussaint told WEHOville. "We have a large number of gay patrons in Pasadena, Studio City and Culver City and they've been encouraging us to come to West Hollywood."
As for Bass's involvement, Toussaint explained that the singer has been a customer at Rocco's Studio City location for years and was excited by the chance to partner with them on the WeHo location.
947 Genesee and 944 Ogden
On a 6-1 vote, the Planning Commission also approved a ten-unit, townhouse condominium project on Genesee Avenue and Ogden Drive, just south of Romaine Street.
Replacing single-family homes on back-to-back lots at 947 Genesee and 944 Ogden, the project will have three, three-story buildings.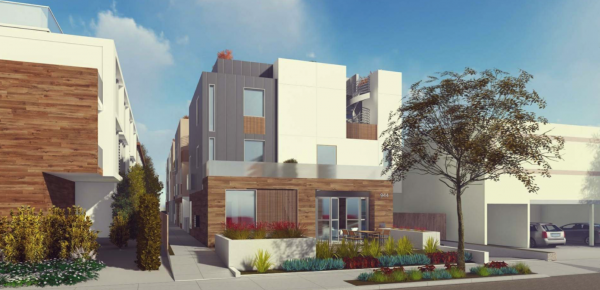 Owned by developer Ilan Kenig's FMB Group, the project was designed by Los Angeles-based TCS (The Code Solution) architects. This is one of at least a half-dozen condo/apartment buildings on the city's Eastside that TCS has recently designed. This project uses a remarkably similar design to those other TCS projects, including outdoor spiral staircases leading from the top floor of each unit to the rooftop decks.
Commissioner Rogerio Carvalheiro, an architecture instructor at UCLA, cast the only vote against the project. He criticized the similarity of all these TCS-designed projects.
"I kind of see the same elements being repeated over and over again," said Carvalheiro. "When you evolve a design, you think that it would get more refined or would become more refined as you go back into it. You know your mistakes and you tweak it and it gets better and better. I, unfortunately, am not seeing that in your projects and it's really upsetting me."
"These buildings are going to be around for a period of 50 to 100 years and we need to be responsible for what we are creating in our environment," Carvalheiro added. "I really want to see these projects from TCS get to a different level and they're just not. They've sort of been flatlined since project one, two and three."
Although she voted for the project, Commissioner Lynn Hoopingarner also disliked the similarity, calling it "architecturally unremarkable."
Commissioner Sue Buckner also felt they could do better.
"I do encourage this developer to put some more effort into creating something a little bit different as he goes forward with his other projects. I think it would do a lot for our city," said Buckner.
Commissioner David Aghaei felt the design was merely adequate, but said it meets the standards of the zoning code.
Meanwhile, Commissioner John Altschul liked that the project was increasing the city's housing stock by eight units. He noted other areas have many similarly designed apartment buildings, pointing to 6th Street between Fairfax and San Vicente and the Park La Brea high-rise complex between 6th and 3rd streets.
However, Carvalheiro noted that on 6th Street, the apartment buildings use variations on the design and paint the buildings different colors to distinguish them. He encouraged this project to try different colors from the other TCS buildings in the area.