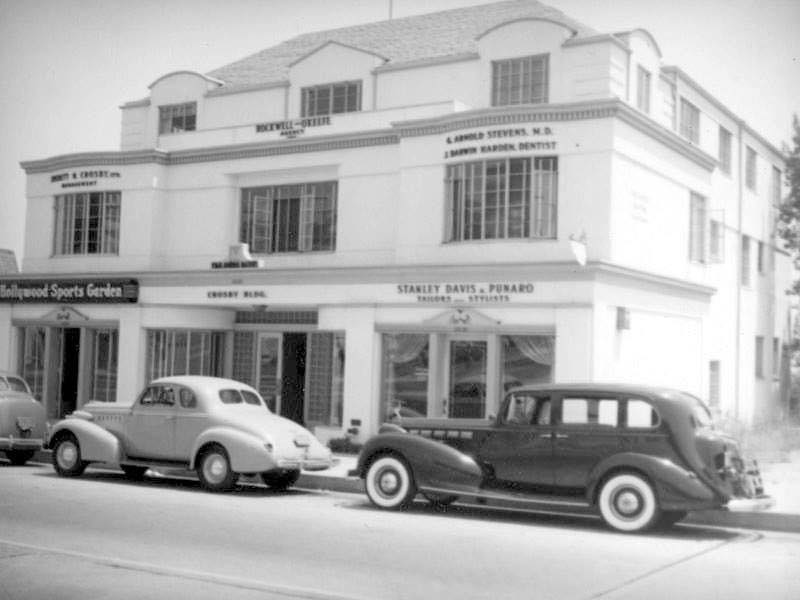 The California State Historical Resources Commission voted this week to nominate the Bing Crosby Building in West Hollywood for listing in the National Register of Historic Places. The vote at the commission's May 17 meeting was unanimous among the seven members present.
From 1936 to 1977 the building, which is at 9026 Sunset Blvd., was the headquarters for businesses operated by Bing Crosby, one of the 20th century's most popular singers and movie stars.
During that time, two groundbreaking technologies were developed in the building. In the late 1940s, engineers employed by Crosby perfected audiotape recording for commercial use. A few years later they invented a game-changing technology: videotape recording. These innovations revolutionized the music, film and broadcasting industries in the latter half of the century.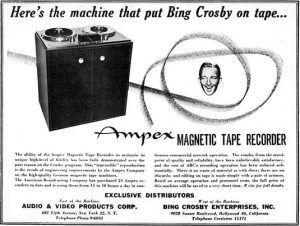 The Crosby Building also housed the Finlandia Baths, a spa that was popular with famous local residents like Humphrey Bogart, Peter Lorre and Rock Hudson.
In the City of West Hollywood Commercial Historic Resources Survey conducted in 2016, the Crosby Building was assessed as eligible for historic designation at the local, state and federal levels. This was a rare "trifecta" among the dozens of buildings that were evaluated for the report.
Today the building fronts a 1.3-acre property owned by the Charles Company, a real-estate development firm. Last fall the company announced plans to build a 19-story hotel on the site. In a rendering of the proposed hotel project published by WEHOville in October the Crosby Building is shown intact, even if apparently stripped of existing, original ornamental details.
On Wednesday, WEHOville reported that Arman Gabay, co-founder of the Charles Company, had been arrested on federal bribery charges. How, or whether, Gabay's arrest will affect the project's future is unclear.
In the run-up to the commission hearing this week, Gabay's representatives sent a notarized letter to the Historical Resources Commission objecting to the nomination – a move that could prevent the building from a full listing in the National Register of Historic Places, relegating it instead to an "eligible" category. However, in a subsequent email the developer notified the commission that it would not send a representative to advocate against the nomination.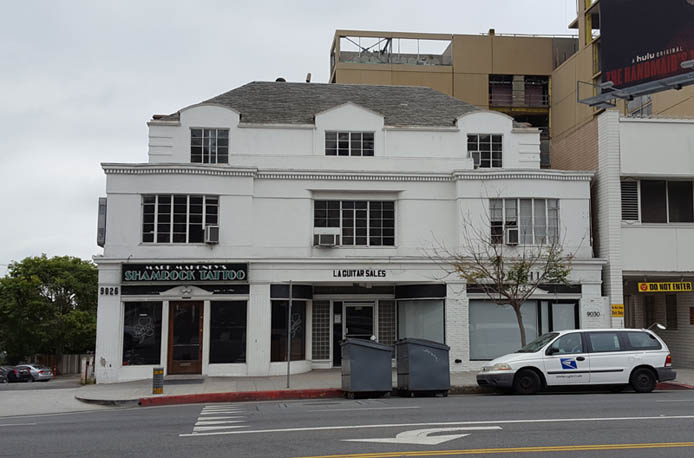 As a result of the objection, the Crosby Building's nomination was moved from the consent calendar to later in the session. During the public comments after a presentation by commission staff, no one spoke against the nomination.
Instead the commission heard from Robert Phillips, who worked on development of recording technology for Crosby at the building in the 1950s and who has spearheaded the historic status designation effort for the building. It was he who prepared the 39-page nomination document for the building, which he submitted to the commission last summer.
In his remarks, Phillips said he felt compelled to advocate for historic designation for the building because he is "the last one left" from Crosby's recording technology development team.
Phillips was in West Hollywood last week and conferred with the West Hollywood Preservation Alliance board (disclosure: I am a member of the board) before traveling to Palo Alto to be present at the commission hearing. In an email to the board a few hours after the vote, Phillips reported, "We made it! They voted for the nomination, and it will be sent onward."