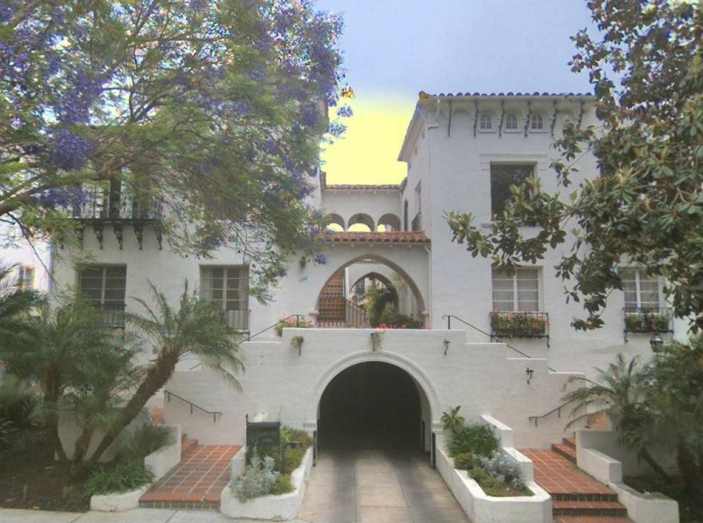 He's the man who perhaps is best known in West Hollywood for his alleged threat to tear down the El Mirador, the Spanish Colonial Revival building on the northeast corner of Fountain and Sweetzer avenues. And then there's his loss of a lawsuit against the City of Santa Monica in 1984 that inspired Jim Ellis, a Republican legislator from San Diego, to push through legislation that allowed a landlord to evict tenants if he wanted to stop renting to them.
But there's more to Jerome Nash, a man with a passion for restoring and preserving the historic properties that he owns, a man inadvertently tied to the Ellis Act when, at the age of 18, he was trying to figure out what to do with a building given him by his mother.
Nash's deeper history and his passion for preservation aren't widely known. In fact, he's somewhat averse to publicity – you won't find photos of him on Facebook or Instagram or through a Google search. Much of Nash's story has been heavily distorted in coverage by the now-defunct WeHoNews.com of his plans for the nearby El Mirador building.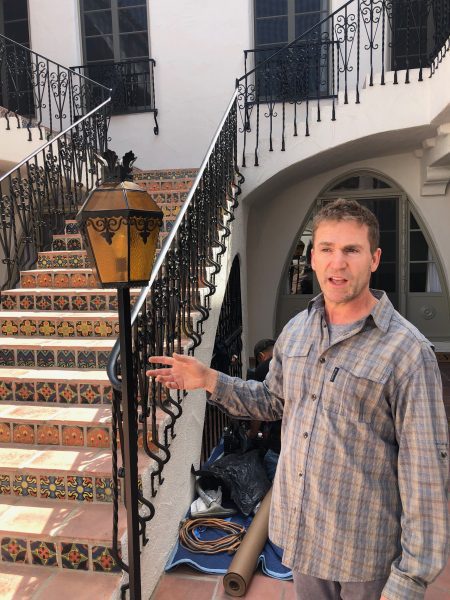 Nash's real story emerged in bits and pieces during an hour-long conversation on a recent tour that he gave of El Pasadero, the Spanish Colonial Revival building at 1330 Harper Ave. Built in 1931, the 15-unit building fell into disrepair under the ownership of Sandra Carradine. Nash took it over and found himself in a vicious fight with two tenants. In May 2013, he invoked the Ellis Act and began a renovation to convert El Pasadero into an urban inn.
The result is a building in which virtually every detail of the original design by Jason and Irene Reese has been restored, with modern amenities such as washers and dryers and closed circuit television discretely added.
The renovation has taken nearly five years. In part that's because Nash had to deal with the death of his brother. But largely it is because of the incredible detail of his work in restoring El Pasadero. One example is the mahogany window frames.
"They are mahogany windows from Ireland," Nash said. "So they are solid mahogany, like that that was there originally. You know how we know? Because we took the window sills there were there originally and we scraped them" to identify the type of wood.
"When you do a historical renovation before you do anything, you see what you have," Nash said. "You don't just demo it."
There are countless other examples of detailed restoration. For example, the door handles to each of the 15 units are original. Some of the tiles that replace some of the old floorings aren't original, but they are manufactured so as to look like the original ones. Delicate illustrations at the top of the walls in some units also are perfectly replicated. Nash also had restored what he calls "broken bottle" windows, which are made with pieces of glass that provide a ripple effect.
"I'm not trying to brag," Nash said as he pointed out the restoration. "This isn't my work. I'm just a custodian."
Indeed, Nash is the custodian, or, to put it more accurately, a trust established by him is the custodian.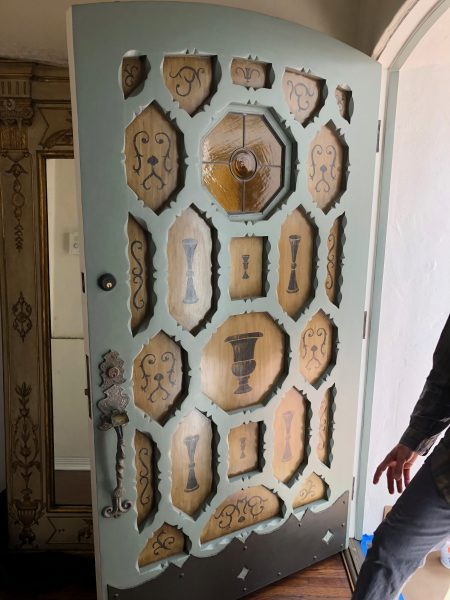 "I get the pleasure of taking care of them in my lifetime," Nash said of El Pasadero and the dozen other buildings he owns here and in New York. "… Then I'll have the trust that will maintain them afterward. (The buildings are) owned by a revocable trust that is part of a larger trust that will fund them in perpetuity."
His passion for preservation is one reason Nash won't convert the El Pasadero into condos, as some have rumored. "I would never make these condos," he said. "These are to preserve the future. With condominiums, you have 14 owners who want to fight, and change the colors."
So if not a condominium, then what? It was May 7, 2013, a little more than five years ago, when Nash notified tenants of El Pasadero that he was invoking the Ellis Act to evict them from the building. Under state and city law, Nash could begin re-renting apartments in the building five years after the eviction at market rental rates.
But Nash instead decided to make the building an "urban inn" along the lines of the Charlie, cluster of English-style cottages on Sweetzer Avenue once occupied by Charlie Chaplin, but with some major differences. One difference is the length of stay. Nash doesn't want a flood of one-night stays. "It's not going to be an Airbnb," he said.
One reason for that is his desire to ensure the preservation of the restoration that he has spent hundreds of thousands of dollars on. Nash also wants to reduce the likelihood of damage to the expensive art and furnishings in each of the units. Much of that art comes from a collection that Nash once housed in the 9,000-square-foot townhouse that he owned on East 71st Street in Manhattan. The furniture comes from a variety of places and, depending on the unit, might be very Mid-Century Modernist or much more traditional.
And what about El Mirador, the seven-story, 32-unit apartment building erected in 1929 on Fountain at Sweetzer? Nash and the City of West Hollywood were engaged in a fierce battle in 2012 over the future of that building. The battle ended with the City Council voting to allow Nash to convert the empty apartment building into a condo building or an urban inn if he paid more than $900,000 in fees and reduced the number of units to 28. Nash rejected that offer, and the word spread that he intended to demolish the building all the way to the ground.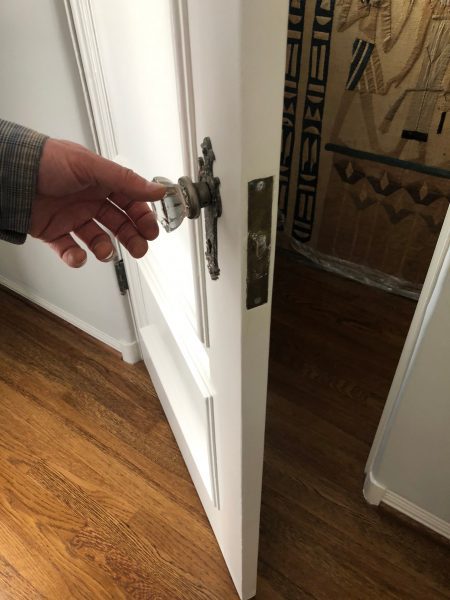 However, the building still stands, and Nash has begun some work on restoring it, work delayed in part by his focus on El Pasadero and the death of his brother. El Mirador has sat empty for eight years, and Nash says "it's a financial joke." Still, he says, "it needs to be preserved."
El Mirador also is an asset of the trust Nash has established to keep and preserve his historic properties. He says there is no way he will make it a hotel. He has received the city's permission to turn it into a condominium, but for the same reasons cited for not doing that with El Pasadero, Nash says no.
What else might surprise those who see Jerome Nash as the cantankerous developer who fights with City Hall for the right to destroy historic buildings and as the force behind the Ellis Act?
Well, for one thing, Nash actually likes most of the folks he has dealt with at City Hall. He especially called out his good relationship with City Attorney Mike Jenkins. The others he praises include former Community Development Director Stephanie DeWolfe and former Development Director Anne MacIntosh and John Keho, interim director of planning and development services, and Cynthia Zabala, the acting building official with planning and development services.
And for another, he's not an ardent supporter of the Ellis Act and resents that he's been attached to it.
"I'm not the Ellis Act," Nash said. "Do what you want if you want to vote it out. I didn't vote it in … I was 18 years old. My court case was supported by a wealthy landlord. I just wanted to get an entitlement for a small project in Santa Monica.
"They (the supporters of the Ellis Act) didn't even talk to me (before introducing it in the state legislature). I wasn't involved with it."
Nash says he has been asked to make speeches on the Ellis Act and has declined. "I say, 'Why? I might as well do speeches on the dodo bird'.
"And honestly, if they want to get rid of the Ellis Act, there's a Yiddish word, 'zie gezunt.' No problem. Honestly."
It only takes an hour with Nash to make it clear that when discussing the Ellis Act he interprets "zie gezunt" as  "yeah, whatever," rather than the more traditional "be healthy." After all, his focus is on preservation.
Other images of the restoration of El Pasadero are on the pages below: