The City of West Hollywood is proclaiming Wednesday as "Stormy Daniels Day," and Mayor John Duran and members of the West Hollywood City Council will present the porn actress with the key to the city award.
The award will be presented to Daniels at 4 p.m. at Chi Chi LaRue, the erotic apparel shop at 8861 Santa Monica Blvd. Daniels, aka Stephanie Clifford, also will be at Chi Chi LaRue from 7 to 9 p.m., promoting her TeamStormy t-shirt line.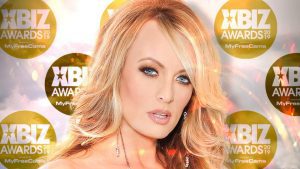 Daniels, a porn performer, is famed for her claim that Donald Trump's lawyer, Michael Cohen, paid her $130,000 in hush money to conceal her alleged sexual affair with Trump. Daniels has sued Trump, claiming that a non-disclosure agreement that Cohen made her sign is invalid because it does not include Trump's signature.
In an announcement of the proclamation and award, the city said it is "recognizing her leadership in the #Resist movement. In these politically tumultuous times, Daniels has proven herself to be a profile in courage by speaking truth to power even under threats to her safety and extreme intimidation.
"Following the election of President Trump, the West Hollywood City Council affirmed the City of West Hollywood's commitment as a sanctuary city and reaffirmed the City's commitment to its core values, which includes respect and support for people. The City of West Hollywood works diligently to defend the fundamental rights of its community members. "
Daniels' battle with Trump has garnered publicity for her "Make America Horny Again" tour. And while she is seen as an idol by many on the Democratic left, Daniels actually declared herself a Republican in 2010 while considering whether to run for a U.S. Senate seat in her native Louisiana. Daniels, who ultimately decided not to run, would have faced incumbent David Vitter, a "family values" Republican who was revealed to be the client of a Washington, D.C., prostitute.
The Washington Post reported that her platform "promoted sexual health education, opposition to the Obama administration's stimulus package, abolishing the federal income tax, and an end to the Iraq War. Vitter was also a major topic …
"Daniels also did not run from her time in porn while contemplating her candidacy, telling reporters her campaign slogan would be 'Screwing People Honestly'."