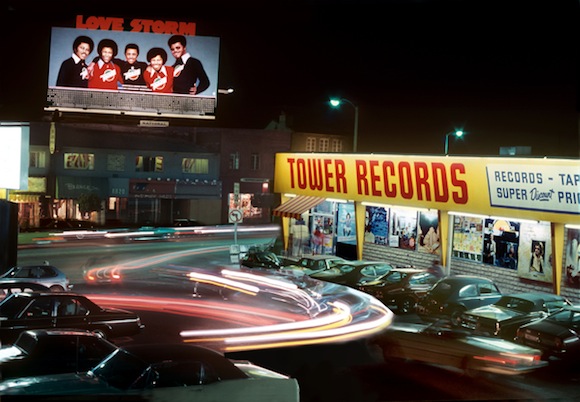 As part of its bankruptcy filing, Gibson Guitar has asked that it be allowed to void its lease of the Tower Records building on Sunset Boulevard.
Gibson announced in November 2014 that it had signed a 15-year lease on the building, which preservations and rock music enthusiasts welcomed as a way to preserve the iconic building. Built in 1971 at 8801 Sunset Blvd., the Tower Records store became a destination for musicians who played at nearby clubs. It closed when Tower Records filed for bankruptcy in 2006.
Local preservation advocates such as Jerome Cleary and Dominic Priore, a rock music historian, made an unsuccessful effort to have the West Hollywood City Council declare the Tower Records building a cultural resource.
"The store was legendary," Priore said in an interview with WEHOville in 2014. "Tower was where the buzz was. It was such an important part of the rock 'n' roll scene. The Sunset Strip was the center of rock 'n' roll back in the day and that store was the center of the music industry."
Gibson petitioned the U.S. Bankruptcy Court in Delaware on Monday for permission to void its lease on the building, which houses its "entertainment relations office." It also filed a request to void a number of other property leases which it said " are no longer of use to the Debtors and/or are too expensive to maintain." It specifically cited "expensive monthly rent" for the Tower Records building and noted that it had other office space nearby.
Gibson, which was founded in 1894, is based in Nashville and long has been known as the world's oldest still-active guitar manufacturer. In recent years it has moved into different businesses, which posed financial challenges. The May 1 bankruptcy filing includes a plan to transfer equity ownership of the company to its principal lenders, thus keeping the company alive.
The Tower Records building is owned by an LLC called Sunset Tower Square whose registration only identifies the lawyers associated with it. It previously had been under the control of Sol Barket, a Chicago-based developer.
Gibson's lease of the building and its decision to restore the Tower Records logo on its façade were welcomed by preservation activists and rock music enthusiasts
In 2015, filmmaker Colin Hanks hosted an after party there following the premiere of his documentary about Tower, "All Things Must Pass," at the Harmony Gold theater. The documentary's director said that the recreation of what he considers arguably "the most iconic of all the stores … " was "beyond" his dreams and expectations.
"I always wanted to be able to do something cool, but it seemed like a crazy hair-brained idea. The fact that we've been able to pull it off… all of our sponsors have been so beneficial because everyone just goes, 'Tower? Yes! Absolutely!' That's one of the reasons I knew there is an audience for this, because everyone has such an affinity for Tower. Not because it was a big company, but because it was a personal company," Hanks said.
At the time, Vintage Los Angeles founder Alison Martino called out the renovations Gibson had made to a building that was painted white after Tower's bankruptcy. Gibson had the building repainted in the original golden shade of yellow with the letters T,O,W,E and R in bright red.
"It's the closest thing to a time capsule I've ever seen on the Sunset Strip, and I think it set a new bar for film promotion," Martino said.