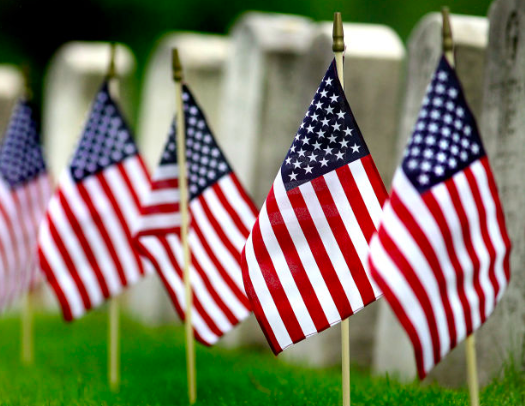 One does not necessarily have to experience the horrors of war on the battlefield and the heart-rending aftermath to find a manner of expression for his disdain and condemnation for that constant human activity. My war was not the usual form to which our race has become so familiar – and entranced by. One may only be an observer and willing to think past the threshold that we have erected as the gateway to such extreme behavior. Our animal nature seems to prevent us from using the great gift to humanity: Reason, that which separates us from our more base cousins. The year of my exit from the Air Force after a four-year overseas duty tour, my small voice says this:
MEMORIAL DAY 1956
At the Veterans Cemetery –
Voices unheard above come from the dark below –
FIRST and SECOND SOLDIER – alternately
…Hear those damned drums again!
– Sad. And the people walk so slowly.
…Suppose there are more flags this year.
– Everybody wants to carry a flag.
…That new monument –
-..crushed Casey's coffin.
…Did it?
-Yes. Of course there wasn't much of him in it.
… Should have used a smaller box.
– More monuments..
…More speeches.
– More flags.
… More coffins.
– More drums.
CHORUS – briskly
The mayor takes a deep breath..
He's said all this before.
The crowd sighs, stamps on the ground,
Dusting their shoes.
FIRST SOLDIER and THIRD SOLDIER – alternately
…The mayor must be fatter this year.
– He puffs harder.
…Same old song.
– There's a new senator.
…Same old song.
– New faces.
…No new words.
– Same old song.
…Why don't they leave us alone?
CHORUS – briskly
Good weather now, rain last year.
The soldiers check their creases.
The auxiliary ladies fuss with their
Pointed caps – and the voices drone on.
FIRST SOLDIER and THIRD SOLDIER-alternately
– You're the "old soldier "here –
but I forget why…
…Because I was the first one in the cemetery.
– Oh. Did they know who you were?
…No. Even I forgot who I was.
– I remember who I was.
…Really? Who?
– My first name was Arthur.
…Don't tell me more.
– I don't know more.
…It's just as well.
CHORUS – calmly, slowly
A breeze slaps the lanyard
Against the flagstaff and
The flag moves out sullenly,
A half-hearted wave.
SECOND SOLDIER and THIRD SOLDIER –alternately
– I think I used to be a printer.
…What did you print?
– Wedding announcements and –
…You should have made flags.
– I'd have made them larger.
This one is a little tight.
…It's meant to be.
CHORUS – breezily
The mayor speaks, the past
Commander speaks, the new
Senator speaks, the flag
Waves again – rifles fire.
FIRST SOLDIER and SECOND SOLDIER – alternately
…Fusillade.
– What's that?
…We used to call a rifle salute a fusillade.
– We called it a rifle salute.
…Same noise.
– For us?
…That's what the mayor said.
– He must have forgot…
…He's never been out of the state.
CHORUS – briskly
Birds fly from trees and dogs
Spin around in fright.
Legionnaires look for their
Cars as the bugle sounds.
FIRST SOLDIER, SECOND SOLDIER and THIRD SOLDIER – alternately
…Look at them shaking hands and nodding.
– Are they old friends?
…No. They forgot where they met
and just need to reassure each other.
– Taps. The bugler plays Taps.
…Our song.
– They're leaving.
ALL VOICES and CHORUS – loudly, carefully
Underground, the corpses
Do not care.
Another monument above them
Compresses the earth
And makes them rot faster.
Tears which once watered
The plots now are dried and
The ground would wither
But for the rain from a tending God.
— Carleton Cronin – May 1956