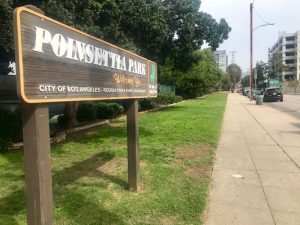 Residents of West Hollywood's Eastside are being asked to show up Wednesday evening for an "evening roll call" for officers of the L.A. Police Department's Wilshire Station.
Stephanie Harker, a neighborhood activist, has asked fellow residents to show up for the event, at which they will be able to meet the officers and Inga Wecker, the senior lead officer for that area for the LAPD. The roll call, an assembly of officers beginning their shift, will occur at 7 p.m. at the corner of Poinsettia Place and Romaine Street.
That location is adjacent to Poinsettia Park, which has become a hangout for homeless people who also have camped on adjacent sidewalks. Neighbors of the area, including those living just north of Romaine in West Hollywood, have complained about crime and littering that they see as associated with the homeless there.