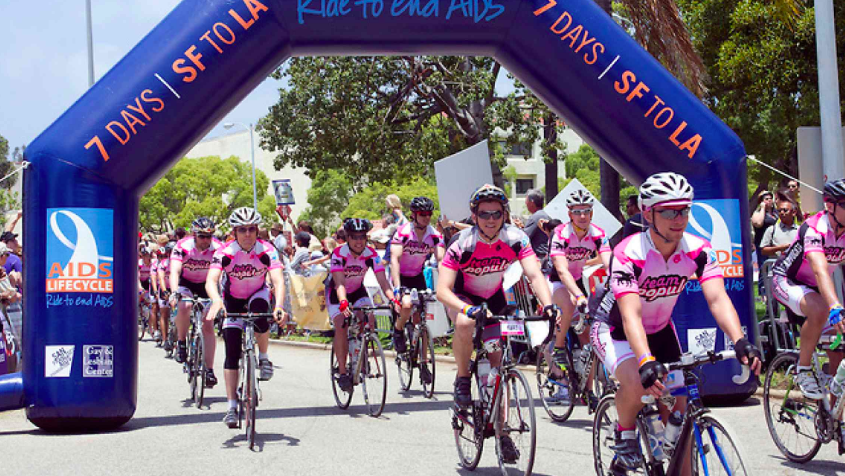 AIDS/LifeCycle announced today that participants raised more than $16.6 million dollars -— a record amount in the event's history—to support San Francisco AIDS Foundation and the HIV/AIDS-related services of the Los Angeles LGBT Center.
AIDS/LifeCycle remains the world's largest single event HIV/AIDS fundraiser. More than 2,300 cyclists pedaled out of Cow Palace Sunday morning on the 25th year of riding to end AIDS with more than 650 volunteer "roadies" supporting them during the seven-day, 545-mile journey.
"Our tireless riders and roadies have once again risen to the occasion, raising millions of dollars to make a difference in the fight against HIV and AIDS," said Los Angeles LGBT Center CEO Lorri L. Jean. "Thanks to their hard work and the generosity of their donors, we will continue to be able to provide free or low-cost HIV testing and medical services—caring for those most in need and reducing the incidence of HIV infection."
In the seven days it takes the riders to reach Los Angeles, more than 700 people in the United States will contract HIV. One in seven people living with HIV nationwide is not aware of his or her status. Since 2002, when AIDS/LifeCycle first began, participants have raised more than $251 million and completed more than 61,000 journeys on bikes from San Francisco to Los Angeles.
"The enduring commitment of the AIDS/LifeCycle community demonstrates the tenacity we need to end the HIV epidemic for all communities," said San Francisco AIDS Foundation CEO Joe Hollendoner. "Because of awareness and funds raised by AIDS/LifeCycle participants, San Francisco AIDS Foundation is able to provide 25,000 clients with services that prevent new infections and promote the health of those living with HIV, all free of charge."
Despite remarkable progress that has been made since the disease was first discovered in 1981, the HIV/AIDS epidemic is far from over. Currently there are 1.2 million people living with HIV/AIDS nationwide and an estimated 37,600 will become infected this year.
AIDS/LifeCycle's sponsors are Gilead Sciences, FedEx, Wells Fargo, United Airlines, and Mytesi. The official bike sponsor is Cannondale.