The storm still isn't over!
Several local residents turned out for the West Hollywood City Council meeting on Monday night to castigate Mayor John Duran and Councilmember John D'Amcio for giving the "key to the city" to porn star Stormy Daniels.
"You two were absolutely giddy. You were like 12-year-olds," lesbian activist Ivy Bottini said to the two gay Council members "Did you have fantasies?"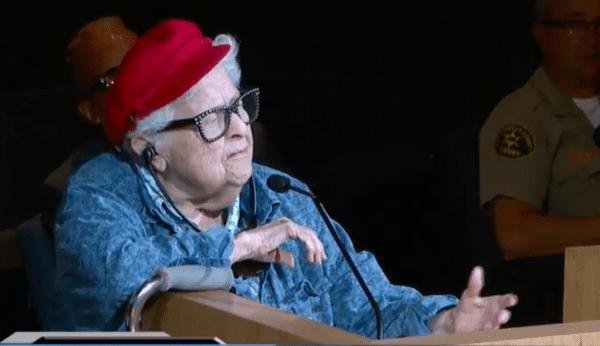 The City of West Hollywood, in a proclamation by newly installed Mayor Duran, last month declared May 23 as "Stormy Daniels Day." At a gathering in front of the Chi Chi LaRue erotic apparel store on Santa Monica Boulevard, Duran gave the adult film actress a proclamation signed by all the Council members. D'Amico gave her the key to the city. Daniels, whose real names is Stephanie Clifford, was at the store to promote her t-shirt line.
The ceremony was described as support for an effort by Daniels to bring down President Trump, the highly controversial Republican president. Daniels has said paid Trump paid her $130,000 to keep quiet about their brief affair before the 2016 election.
Bottini said it would have been more appropriate to honor Andrea Constand, who vigorously pursued a rape charge against actor Bill Cosby and won, or Rosie Perez, actor and activist whose recent work has focused on Puerto Rico, where she helps lead a fight for the federal government to pay for hurricane damage there in 2017.
"Do you ever think of the city as a city that you represent for all the people, or is it only LGTB people?" Bottini asked. "I'm LGBT, but there are other people here, there are residents who do not like pornography. Plus, she may be a nice person, but it's extortion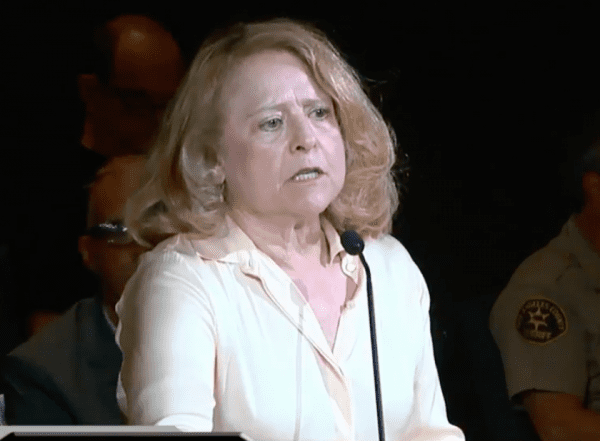 Cynthia Blatt, who was an unsuccessful candidate for City Council in 2017, demanded City Hall take action for what she called a violation of the city's Code of Conduct for elected and appointed officials.
The code, Blatt said, requires a Council member to get the permission of the rest of the Council when doing something official that will get significant attention. "This was noted nationwide, Blatt said, calling out national television networks such as FOX where the proclamation was reported.
"Given this long history of malfeasance, John Duran has cost the city hundreds of thousands of dollars in settlements of sexual harassment suits. That violates section 5.1 of the city's code of conduct. " Blatt was referring to the city's decision in 2016 to settle for $500,000 a lawsuit brought by Ian Owens, the City Hall deputy to Duran, who alleged that his boss sexually harassed him. Neither Duran nor the city acknowledged such harassment in settling the lawsuit.
"I ask the city attorney and the city manager per the city's code of conduct to censure the mayor for his sullying the name of the city."
Steve Martin, a former council member who is a frequent critic of Duran, said he thanks council members John Heilman, Lauren Meister and Lindsey Horvath "for having the common sense to not show up at this circus event that was truly an embarrassment to the City of West Hollywood."
The criticism of Duran came during a period when speakers were supposed to address a homelessness initiative on the Council agenda. When Duran warned Bottini that she was off topic by not focusing on the homeless item, they got into an argument that led him to summon a Sheriff's deputy to move the 92-year-old activist.
However, others, including Amanda Goodwin, another unsuccessful Council candidate,  also spoke out against Duran. There was relatively little focus on D'Amico, who was installed as mayor pro tem last month when the mayoral position rotated to Duran.