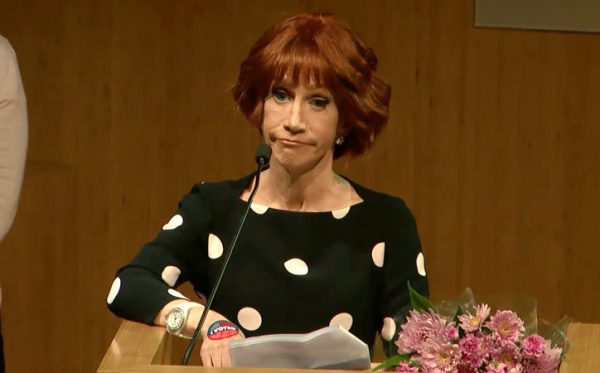 Comedian-activist Kathy Griffin brought the house down with her jokes and witticisms Tuesday night during West Hollywood's annual Rainbow Key Awards ceremony.
Ripping on current events, Griffin advocated for porn star Stormy Daniels to run for president, chanting "Stormy 2020," while also suggesting that presidential daughter Ivanka Trump is so inept, she likely doesn't know that "feckless" means inept and lacking character.
Griffin teased West Hollywood for its annual mayoral rotation, saying, "I love that you guys change your mayors out once a year. That's so gay. Typical. I'm bored with him, get the hotter one."
Noting that Oprah Winfrey endorsed Barack Obama early in his 2008 presidential run, she joked that America would have a much better president if they just gave the job of selecting the president to Oprah.
While Griffin left the approximately 100 people attending the ceremony roaring in the aisles during her ten-minute acceptance speech, she also got serious, warning that LGBTQ people must fight for their rights since Republicans are coming after those rights and lamenting that Donald Trump won the presidency in 2016, defeating Hillary Clinton.
"Our country is more misogynistic, in my opinion, than homophobic, and it's quite homophobic," Griffin said. "As much as I dream of the day a woman can be president, I'm finally dealing with the fact that a gay man will probably be president first."
Griffin was one of six people being honored during the 25th annual Rainbow Keys, the prestigious award given by the City of West Hollywood to people who have made outstanding contributions to the LGBTQ community. Members of the City Council along with the city's Lesbian and Gay Advisory Board (LGAB) presented the awards.
Mayor John Duran welcomed attendees, inviting them to enjoy Pride month and all the events/activities being offered in the city.
Explaining the need to take an entire month to celebrate Pride, Duran said, "In 40 some years, we have gone from being criminals arrested for merely congregating in our nightclubs and our bars, we have taken on an epidemic that killed 500,000 of our men, we have battled the United States military who segregated the troops so LGBT people can serve and besides that, we actually can get married, and we have done all that in just 40 years, so hell yeah, we're taking a whole month."
Meanwhile, City Councilmember John D'Amico explained the importance of the Rainbow Key Awards.
"Receiving an award from your government, whether it's something small like a two-square-mile city or the entire nation, has a certain significance," said D'Amico. "It really is a reflection of our entire community, in this case, two-square miles, 35,000 people who believe in the hard work of all the honorees."
Also receiving Rainbow Keys were: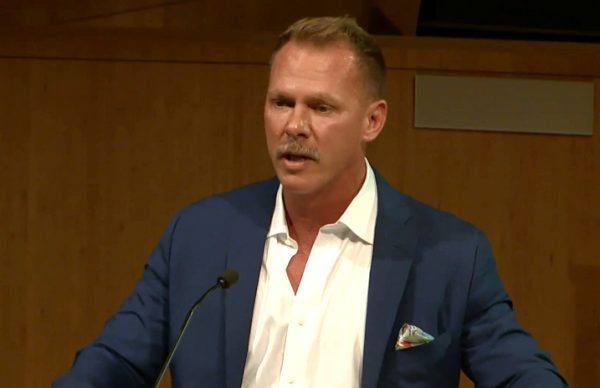 Brian Pendleton, the man who conceived last year's #ResistMarch, is a longtime activist and philanthropist who has helped raise over $1 billion for charities. In his acceptance speech, Pendleton talked about being teased in school for being gay, as well as his addiction to crystal methamphetamines. Now 22 years clean and sober, he advised people to be politically active and to reach out to their Republican and conservative relatives to forge understanding.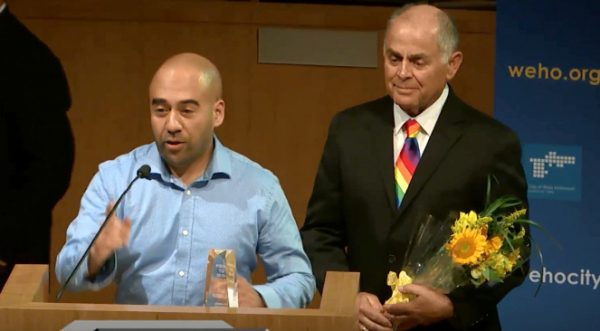 Matt Palazzolo, an actor and an activist who died in January while hiking in Australia, was the co-founder of Equal Roots, a grassroots LGBTQ youth activist group, and longtime member of the city's Lesbian and Gay Advisory Board. Following a screening of a short reel of Matt's acting clips (which left many tears in people's eyes), his father, Pat Palazzolo, and brother, Mike Palazzolo, accepted the award, saying that LGBT activism provided great meaning to Matt's life.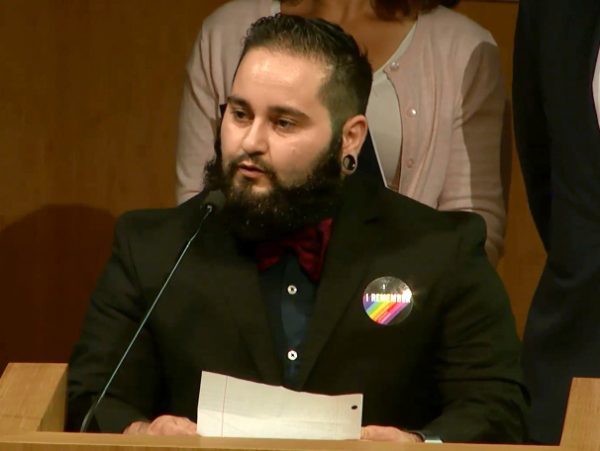 Rudy Akbarian, an openly transgender member of the U.S. Army who serves as a mentor for other transgender military members. In his speech, Akbarian discussed the importance of mental health for everyone, but especially for transgender people.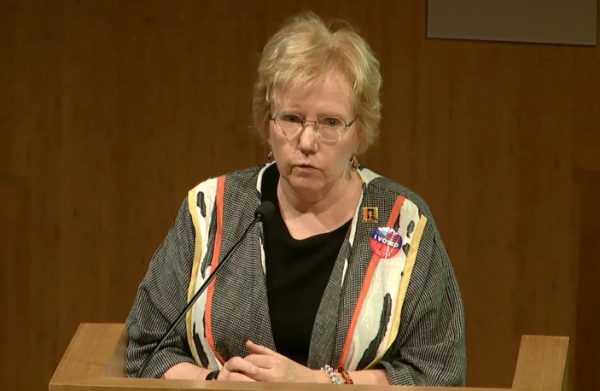 Elizabeth Savage, a longtime LGBTQ activist, who retired in November after working 22 years with the City of West Hollywood. Savage, a fierce advocate for affording housing and aging in place, was known for working 12-plus hour days (she said she was "happy doing this work"), and joked that she now has time to take long walks as well as read for pleasure. In her speech, Savage advocated for establishing broad coalitions to work to preserve and advance LGBTQ rights and also paid tribute to the city's dedication to fighting for those rights.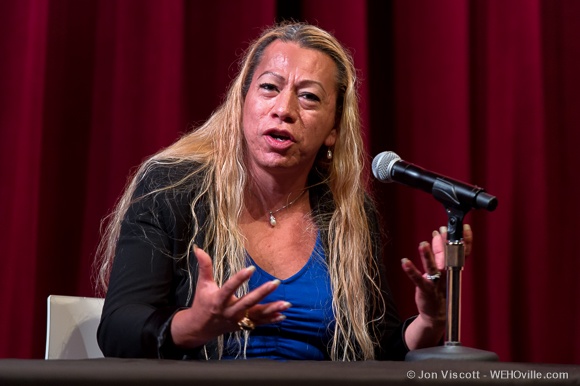 Bamby Salcedo, a transgender activist who founded the TransLatin@Coalition dedicated to helping transgender Latino people. Salcedo came to America from Guadalajara, Mexico, and is now a nationally recognized speaker. Although she was unable to attend due to illness, her friend Erica de la Cruz read a letter from Salcedo talking about her activism, which has focused on the HIV, migration, incarceration, youth and the transgender communities.