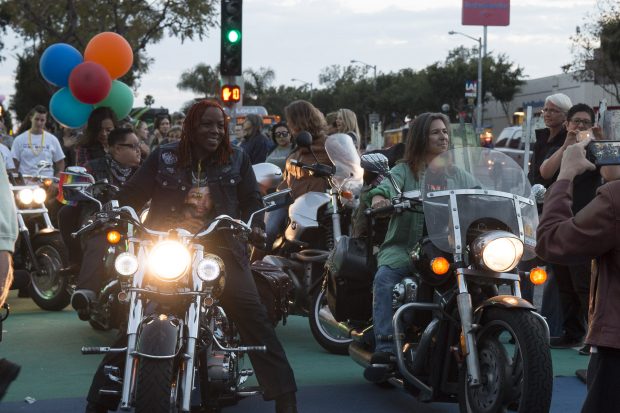 This weekend's Pride festivities kick off tonight with the annual Dyke March. And that's just the beginning.
The Dyke March program begins at 6 p.m. at Sal Guarriello Veterans' Memorial, 8447 Santa Monica Blvd. at the intersection with Holloway. The evening will kick off at 6 p.m. with a live DJ set by Claudette Sexy DJ and a protest sign and pin-making workshop led by artist Julianna Parr, with all materials provided.
The rally will begin at 7 p.m. with guest speakers that include comedian Gloria Bigelow (the host and emcee); members of the West Hollywood City Council; members of the city's Lesbian & Gay Advisory Board; Angela Brinskele, communications director of the June Mazer Lesbian Archives, Montebello's City Councilmember (and first LGBTQ mayor) Vivian Romero; community activist Alana Roshay; Chris Jackson-Baldwin of L Project LA and Michaela Mendelsohn of TransCanWork, who is the grand marshal for this year's Pride parade.
The Etheridge Award will be conferred to artist and activist Patrisse Cullors by members of the city's Lesbian and Gay Advisory Board and accepted on her behalf by a representative.
The march down Santa Monica Boulevard to San Vicente Boulevard and back will begin at 7:45 p.m. When the march returns to the Memorial there will be another live DJ set by Claudette Sexy DJ, WASI, Kaleena Zanders and Niña Dioz.
Also on Friday night, LA Pride and the Los Angeles Dodgers are hosting the 6th annual LGBT Night at the Dodger Stadium, starting at 5:30 p.m. with a kick-off party at the Right Field Plaza Pavilion and continuing until the first pitch is thrown against the Atlanta Braves.
The evening will include a performance by singer Brian Justin Crum as well as a recognition of major LGBT names in sports such as U.S. Olympian Gus Kenworthy; Dale Scott, the first openly gay umpire in Major League Baseball history, and Will Hacker, founder of the Varsity Gay League.
After the game, those attending will be invited onto the field to enjoy a fireworks show presented by Denny's, along with a live music mix by DJ Bowie Jane. Ticket holders will also receive a commemorative LA Dodgers "Pride-edition" t-shirt. For tickets, visit https://lapride.org/dodgers.
Also on this Friday night, the LA LGBT Center will host the free youth Pride dance for those 24 and younger. The event takes place from 7 to 10 p.m. at the Village at Ed Gould Plaza, 1125 N. McCadden Place in Los Angeles.
It's an outdoor "glow-themed" party will include food, drinks (non-alcoholic) and giveaways. It's a 100% substance-free event.
And for tips on negotiating the traffic, finding parking and getting where you want to go all weekend, click here.