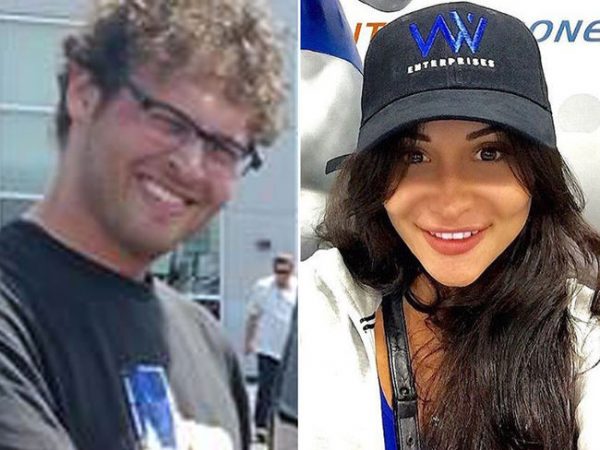 Three weeks after his live-in girlfriend gave birth to their daughter, a West Hollywood man murdered the woman and drained all the blood from her body, mirroring the script of a graphic novel he co- wrote, a prosecutor told jurors Friday.
"He authored the book "Syndrome." … Just pay close attention to the baby on the cover," Deputy District Attorney Tannaz Mokayef told jurors during her opening statement in Blake Leibel's trial, saying it "mimics what happened to the victim, Iana Kasian" in May 2016.
Leibel, 37, is charged with murder, torture and aggravated mayhem stemming from the 30-year-old woman's killing in the condominium they shared on Holloway Drive. The murder charge includes the special circumstance allegations of murder by torture and murder by mayhem. Leibel is the son of Lorne Leibel, a wealthy Toronto real estate developer known for his collection of Ferraris At the time of Kasian's murder, Liebel was married to and had a child with another woman, Amanda Braun, with whom he lived in a Beverly Hills mansion. He filed for divorce from her in July 2015. In August 2015 Braun gave birth to their second son.
The District Attorney's Office opted not to seek the death penalty against Leibel, who faces a maximum sentence of life in prison without the possibility of parole if he is convicted as charged.
"This case reads like a movie script," the prosecutor told jurors, adding that it was more like a horror movie about a "gruesome crime" that involved a "prolonged attack" in which Leibel's girlfriend was "alive for the better part of the mutilation and mayhem."
"He followed a script, as you will, in a book he authored – 'Syndrome'," Mokayef told the panel at the Airport Branch Courthouse in Los Angeles.
One of the book's co-authors is expected to testify that the concept of draining blood out of a victim's body was thought up by Leibel — with the prosecutor telling jurors that Leibel's girlfriend was left without any blood in her veins.
The woman's nude body, which was covered with a Mickey Mouse blanket that had been used earlier in their newborn daughter's nursery, was discovered May 26, 2016, in the couple's blood-spattered master bedroom after Kasian's mother called authorities to report that she had not been able to reach her daughter, the deputy district attorney said.
She showed jurors an illustration of a woman in the book and urged them to compare it with the crime scene, saying it's "almost exactly like what you have" in the case.
Leibel had barricaded himself inside the master bedroom and came out in boxer shorts after his accountant showed up, with sheriff's deputies discovering "blood everywhere," Mokayef said.
The woman appeared to have been washed thoroughly and was missing her scalp and the right side of her face, and pieces of flesh were found in the room, the prosecutor said. She noted that part of the victim's scalp and an ear were subsequently discovered in a trash bin at the bottom of a chute outside the condominium.
The prosecutor said Leibel hadn't counted on the persistence of his girlfriend's mother, who initially notified Los Angeles County sheriff's deputies about her daughter's disappearance one day before her daughter was found dead and then again in a 911 call in which she pleaded, "Help me," the day her daughter's body was discovered.
After briefly consulting with her client, defense attorney Haydeh Takasugi told Superior Court Judge Mark Windham that she would reserve her opening statement until the start of the defense's portion of the case.
The victim's mother, Olga Kasian, who had traveled to the Los Angeles area from the Ukraine to help her daughter with her newborn child, was called as the prosecution's first witness.
Through a Russian interpreter, the victim's mother said she had been helping to care for the baby, who was staying with her at a Los Angeles apartment, and that she never saw her daughter alive after the two went shopping May 23, 2016, to look for a baby stroller. She said she spoke to her daughter once the following afternoon and then never heard from her again.
"Were you worried about your daughter?" the prosecutor asked.
"Yes," the woman responded, noting earlier that the two had been in constant telephonic communication with each other.
Kasian has filed a civil lawsuit against Leibel, seeking $36 million. It the lawsuit is a transcript of a deposition by Dr. James Ribe of the L.A. County Coroner's Office in which he describes the circumstances of Kasian's death as likely to be unprecedented outside of wartime.
Ribe said Kasian's "entire scalp was traumatically absent and was not found, was not present with the body. Her skull had been stripped down to the surface of the bone … There was no scalp present except for little bits in the back of the neck."
"Also portions of the right side of her face were torn away including the right ear and part of the posterior face on the (right) side, all the way down to the jawline. … As far as the face, there were quite a number of bruises and abrasions on the face, primarily on the left side, the left cheek, and left jaw area, a number of bruises and abrasion, including one which turned out to be a human bite mark…"
Among the most unusual aspects of Kasian's death, Ribe said, was "that she had lived for at least eight hours approximately after receiving the scalp injury and the bruise to the collarbone."
"I have never seen this before. And I doubt if hardly any forensic pathologists in this country or abroad have even seen this outside of, perhaps, wartime … So it's extremely rare…."